Liverpool's Luis Suarez is being 'vilified', says Brendan Rodgers
Last updated on .From the section Football1022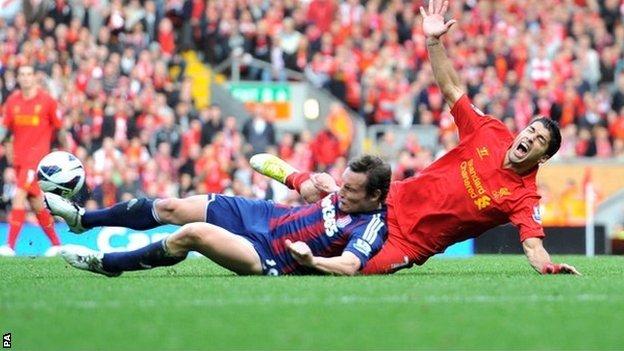 Liverpool manager Brendan Rodgers has defended Luis Suarez following fresh accusations he dives to win penalties.
Stoke boss Tony Pulis wants the striker banned for trying to con referees while pundit Alan Hansen is also critical.
But Rodgers said: "At this moment, there seems to be one set of rules for Luis and another set for everyone else.
"I believe some people need to develop a sense of perspective and I also believe in this moment the vilification of Luis is both wrong and unfair."
Pulis called on the Football Association to punish Suarez for what he claims was a dive during Sunday's goalless draw at Anfield.
Pulis said a three-game ban would stop the Uruguayan from "falling over".
Hansen agrees that Suarez has a tendency to go to ground when challenged but added that the player was not the only one to make life hard for officials.
"There's no doubt about it that he goes down very, very easily," the former Liverpool and Scotland defender told BBC Sport. "But the English game is littered with players who go down easily.
"I think his reputation precedes him. It's really, really difficult for the referee to decide if contact has been made. When there's minimal contact, he's got to try to stay on his feet.
"Something has got to be done. I'm not talking particularly about Luis Suarez. Especially this season, we have seen tons of players go over when there is no contact or very little contact.
"If you are going over under no pressure at all, the authorities have to clamp down on it. The big problem is I can watch on television an incident 15 times and not work out if there's contact."
Rodgers told Liverpool's official website that Suarez is often the victim of cynical fouls.
"As manager of this football club, I find it incredible that in nearly all the coverage about Luis Suarez this weekend, very little focus has been placed on the fact that he was actually the victim of a stamping incident within the first five minutes of the game," he told liverpoolfc.com.
"Diving and simulation is obviously a wider issue in football and one that we all agree has to be eradicated from our game but there were other incidents this weekend that didn't seem to generate the same coverage.
"No-one should be distracted by the real issue here, both at Anfield and at another game played on Sunday, when Luis and another player were hurt in off-the-ball incidents that went unpunished but were caught on TV cameras."
Hansen said Suarez's reputation means he is not winning legitimate penalties either.
"Three weeks on the trot Suarez should have had penalty kicks, culminating in the one at Norwich where he was hit from behind, hit on the head, and pushed over," said Hansen, who was speaking at an event to mark the Football Pools' 90th year.
"On each occasion, the guy that made the tackle ran after the referee and said he was diving. It's very difficult for him to get a penalty kick.
"It will be interesting to see the next six to eight weeks whether Suarez gets a penalty anywhere.
"What's happening now is referees, in my opinion, aren't giving a legitimate penalty claim. The first question they are asking themselves is 'has he dived?' I don't think they are asking themselves whether that guy has made contact."
Hansen believes diving is a widespread problem.
"It's a culture that has developed in the game. In the 1980s and 1990s, it was a lot more honest," he said.