Blackpool's Ian Holloway confused by Elliot Grandin
Last updated on .From the section Football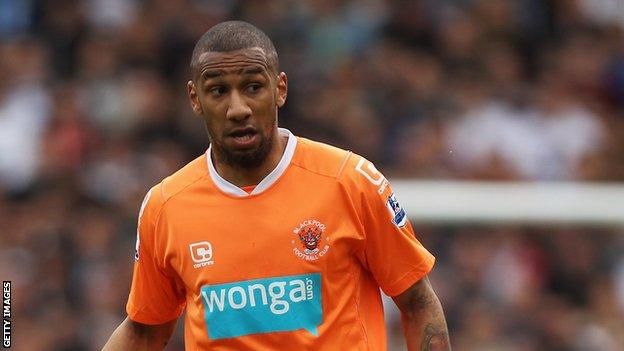 Blackpool manager Ian Holloway has admitted he is confused by the attitude of midfielder Elliot Grandin.
The 24-year-old Frenchman has not appeared for the Tangerines since returning from a loan spell at Nice.
Holloway told BBC Radio Lancashire he was finding it hard to get through to the player.
"I've given him four really important words; commitment, encouragement, enthusiasm and enjoyment and asked him 'where are they?'," he said.
"Until I get the right answers he won't get the chance to play, because other people have got those things in abundance, and sometimes I think he lacks them.
"I've asked him to to look up the words in French so he understands exactly what I'm asking him, and there's been no communication since I gave him that a week ago.
"He isn't going to get what he wants if he keeps doing what he's doing. He's got a flat here, but does he want to be here? I don't know is the honest answer, and for me body language is absolutely everything."
Holloway contrasted Grandin's attitude with that of winger Matt Phillips, now back in the side after his transfer request was turned down
"The whole point is, funnily enough, there was nothing wrong with him in the first place, there's nothing wrong with him now," said Holloway.
"I've never had a problem with the boy. I've got to move on because I've got some great players here and Matt's one of them.
"My chairman looks after Blackpool and I look after the team. There'll be decisions we all have to deal with and move on.
"He's back in my plans and that's all there is to it."
Holloway also appealed to supporters not to turn on the side when results are not going their way.
"My message to our supporters is not to end up like other fans, who just moan at their team all the time. When we conceded a against Leeds the other week, our fans were chanting 'Holloway's Tangerine Army' before we even kicked off again - and we went on to batter them and win the game.
"On Saturday our fans booed. What chance have we got? Our players looked scared to death.
"If it gets to the point where a player is worried about trying something special because they fear what the crowd will say, we are in real trouble."