Kettering Town's Alan Doyle fights to save club
By Chris Osborne
BBC East Sport
Last updated on .From the section Football70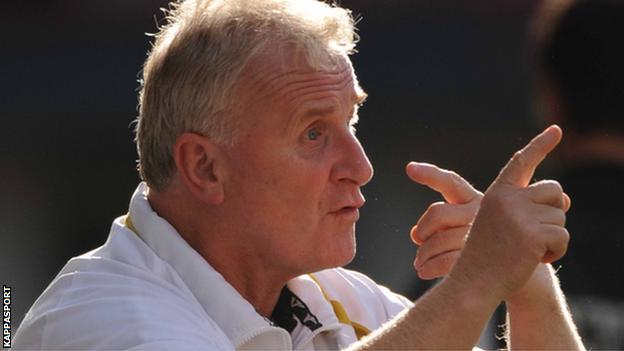 No money. No players. No points. No electricity. Any day now could be the last in Kettering Town's 140-year history.
The Poppies, one of non-league's most successful clubs, have dwindled from Blue Square Bet Premier mainstays to Evostik Southern Premier basement boys.
The crippling financial failures that put the club where they are now continue to gather speed, the power at Nene Park has been shut off, they are rock bottom of the league on -5 points after a 10-point deduction and, on Tuesday, their game at Leamington
That is the scenario caretaker-manager Alan Doyle has inherited.
The responsibility of keeping the club alive, making sure 14 decades of proud history are not consigned to football almanacs, falls heavily on his shoulders.
"It's OK, apart from getting another divorce - my missus is going potty about the whole thing," he joked to BBC Sport.
"I was on the phone from eight until 11 Monday night and I've been on the phone since eight Tuesday morning. It's been crazy.
"I can't do much unless we get a buyer for the club. Things change in football so quick. I took this poisoned chalice nine days ago and I never thought I'd be doing interviews for TV and radio."
On Saturday Kettering, with just 10 men available, were The squad was reduced to six by midweek, with two out injured and another pair unable to get time off work.
But the response of the Poppies fans after that weekend thrashing persuaded Doyle, a former Cambridge City striker, to keep on fighting a losing battle.
"After the game people were shaking my hand saying 'thank you for trying to keep it going'," he said.
"You don't want to sit on the bench every week knowing you're going to get beaten. But I also thought the longer it can be kept going the more chance it's got of being saved. If I pack up it's finished.
"I might be doing the wrong thing. People might say 'I've had enough of it, why don't you just finish it?'. At the moment I'm not getting that feedback."
If Kettering, who count Ron Atkinson and Paul Gascoigne as former managers, could exist until the end of the season and finish bottom of the table, they would fall just one division. If they folded and re-appeared in the form of a phoenix club, the drop could be three or four leagues.
But they need players to play games and, after releasing squad members who are owed wages, they are short of numbers.
The club cannot just get anyone with a pair of boots to play because they are under a transfer embargo from the Southern Football League, who argue the club had plenty of registered players when the embargo was placed.
"I can understand why the officials have done this because they want to get the club into order," added Doyle, the former scout turned caretaker-manager.
"But it doesn't make sense that we can't get more players on the books. I think common sense has to come in now."
There is nothing in it for Doyle, who is one among an army of volunteers at Nene Park.
There is, of course, the possibility of attaining cult status in a pocket of Northamptonshire and a permanent job should the club survive.
"That's the dream. But unfortunately life's not like that. It would be nice if it was," he said.
"I can't afford to do it really. That's the big problem. I'm owed about a third of the money from July. The whole of August.
"I didn't do much in September because I wasn't getting paid. And I got money that just about covered my petrol when I went to Kettering three times last week.
"That's another thing my missus isn't too happy about."