Welsh FA chief Jonathan Ford backs manager Chris Coleman
Last updated on .From the section Wales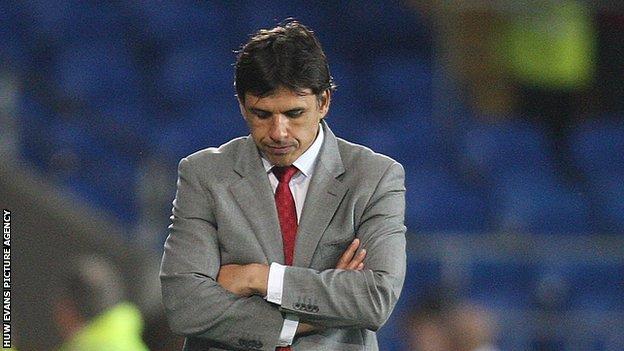 Welsh FA chief executive Jonathan Ford insists Wales winning their first 2014 World Cup qualifying points against Scotland or Croatia is a "must."
Chris Coleman has lost his first four matches in charge of Wales and no Welsh boss has lost their first five games.
Wales lost their opening two qualifiers to and and have not lost their first three World Cup qualifiers since the 1968/69 campaign.
"Some points on the board is a bit of a must in my mind," said Ford.
Wales won four of their last five games of 2011 under previous manager Gary Speed and were the according to Fifa's world rankings.
But Welsh football was stunned by the in November 2011 and Coleman was appointed his successor in January.
Wales have only scored one goal in 2012 and are yet to win since Speed's death but Football Association of Wales boss Ford is "100%" behind Coleman to transform Wales.
"It was always going to be a very difficult task but our support is absolutely with Chris," said Ford.
"It is a very difficult, challenging task and we wish Chris all the very best."
Coleman, who has replaced Aaron Ramsey as captain with Ashley Williams, has to revive Wales' qualifying campaign.
And he has already acknowledged Wales' campaign could be over should they lose against Scotland and Croatia.
Walley Barnes, Wales' first manager, lost the first four games of his reign in 1954 and Coleman is the first boss since to suffer such a disappointing start. Barnes, however, won his fifth game in charge against Northern Ireland.
Wales have not lost their first three World Cup qualifiers since their 1970 qualifying campaign when Dave Bowen's side lost all of their qualifiers, losing to Italy twice and East Germany twice.
Coleman will be without striker Craig Bellamy, defenders James Collins and Neil Taylor, midfielder Jack Collison and goalkeeper Wayne Hennessey for Scotland's visit to the Cardiff City Stadium on Friday and their trip to Croatia on Tuesday.
But Ford is standing by his manager, insisting: "Absolutely 100% we back him.
"We sat down with Chris after the shock defeat away in Serbia.
"Nobody wanted to come away from that match in the way we did and Chris took some time to reflect on what he saw and what he was trying to do with the legacy that Gary had left us.
"But at the end of the day, the manager has to make his own decisions.
"Chris has made some fundamental changes and we support him and wish our team all of the best success for the match coming up this Friday."
And asked if Wales need two good Group A results against Scotland and Croatia, Ford admitted: "Absolutely. And away to Croatia, that's going to be a very difficult, challenging task.
"Let's just hope we get some competitive football out there and some points on the board is a bit of a must in mind and let's just hope we go into early next year singing the praises of the end of the year rather than the start."