Mansfield Town: Adam Murray says abuse is getting personal
Last updated on .From the section Football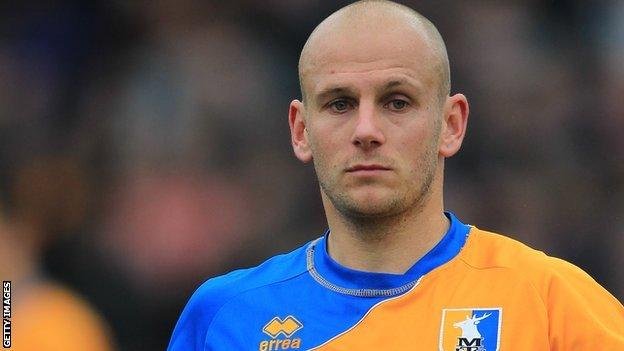 Mansfield Town captain and assistant manager Adam Murray says the abuse being directed at players is both personal and unacceptable.
The Stags have not won in their last four matches and slipped to 13th in the Blue Square Bet Premier table.
And sections of the crowd voiced their anger at the the final whistle of Tuesday's home draw with Lincoln.
Murray told BBC Radio Nottingham: "We have gone into a siege mentality and have to as the abuse has got personal."
He added: "We were here last season and I'm past worrying about it. I'm focused on playing football and working for the boys out there who care.
"There is a lot of things at the club behind the scenes, a lot of politics where people are trying to stir up trouble and it's turning on the players now," said Murray.
Stags manager Paul Cox also suggested off-field matters were affecting the club, but refused to let his players be distracted by problems outside their control.
Cox, who signed a new contract in the summer, did not expand on the issues but added: "Me and the players know what is happening. We know some of the politics going on behind the scenes and we are not politicians we are footballers.
"It's definitely galvanising the players; it did last year. Whatever the scenario on that, we will try win football matches and leave the politics and all that stuff to those who wants to do that."