Blackpool critics irritate manager Ian Holloway
Last updated on .From the section Football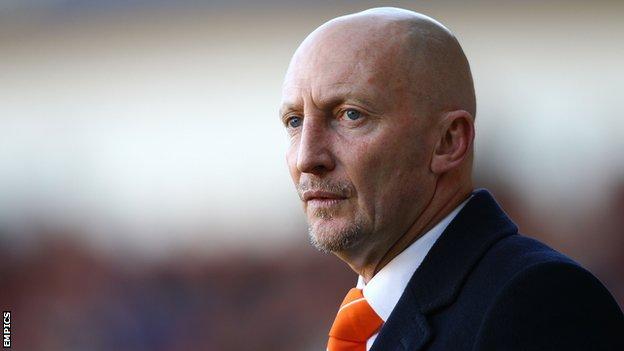 Blackpool manager Ian Holloway has hit back at supporters who are criticising the Tangerines' inconsistency.
Having been top of the Championship after winning their first three games, the Lancashire club has lost three of their last four matches to slip to eighth in the table.
Holloway told BBC Radio Lancashire a supporter had recently told him to 'sort it out'.
"I just laughed and replied 'sort what out?'" Holloway said.
"The only thing I'm focusing on is trying to play decent football, and within that entertain and also win, and that's not easy.
"Everybody is talking about how brilliant we were - and that's the word other people have used - against Middlesbrough.
"Well the result, 4-1, was great and some of the football was exhilarating, but there was a period in that game where they could have levelled it at 2-2 and probably should have done.
"Tom Ince, luckily enough, went and got us the third goal and we could all relax, and when we relax and pass it around, we look very good. So we weren't that good really, it could easily have been a draw.
"In the next game, at home [to Huddersfield], we lost 1-3 and they scored two goals either side of half-time when I felt we were the better team.
"The goals changed the course of the game and instead of us going top, like everybody wanted, that was it. So it's never heaven and it's never hell, and you just have to get on with it."
Holloway pointed to the example of Crystal Palace who, after losing their first three games, have won six out of their last seven to jump to fourth in the table.
"I don't know what people want me to do - I always chase the three points. Yes, sometimes one [point] is absolutely vital and can make the difference, but my team will always attack.
"We managed to do that without the best player in the Championship at the start of the season, with most assist and most goals, which is Tom Ince."
Holloway believes Ince, who has scored six goals in eight Championship matches and is reported to be a target for Manchester United, is a better England prospect than Arsenal wingers Theo Walcott and Alex Oxlade-Chamberlain.
But Holloway's focus is very much on his players as a group.
"As far as I'm concerned everybody can get carried away as long as I don't. And I haven't so far, and I won't. I just have to keep concentrating on the football, keep concentrating on what we're doing, and try and get everybody to learn how to do certain things at certain times as a group.
"So I am constantly 'sorting it out' over and over again - and I will continue to 'sort it out'."