Le Riche Cup draw: Holders St Paul's to face Portuguese
Last updated on .From the section Football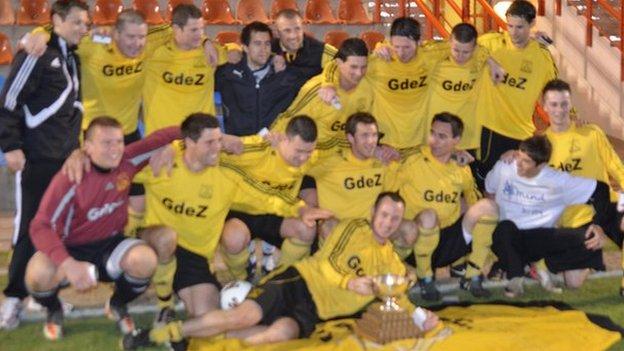 Holders St Paul's have been drawn away at Championship side Jersey Portuguese in the second round of Jersey's Le Riche Cup.
Saints have won the tournament for the past three years.
Among the other highlights of the draw, Premiership champions Jersey Scottish will travel to Trinity.
Both Guernsey teams in the competition have away games, with Belgrave Wanderers at St Brelade and Vale Rec travelling to St Lawrence.
The second-round draw has also been made for the Dog Club Trophy, for reserve teams in the island.
St Brelade have been handed a bye because
The matches will be played on Saturday 10 November.
The second-round draws in full
Le Riche Cup
St Brelade v Belgrave Wanderers (Gsy); Trinity v Jersey Scottish; St Clement v St Peter; St John v St Ouen; St Lawrence v Vale Rec (Gsy); Magpies v Rozel Rovers; Jersey Portuguese v St Paul's; Beeches v Jersey Wanderers
Dog Club Trophy for reserves
Jersey Scottish v St Clement; Jersey Wanderers v Trinity; First Tower Utd v St John; Rozel Rovers v Magpies; St Ouen v Sporting Academics; St Peter v St Lawrence; St Paul's v Beeches; St Brelade - walkover