Neville Southall: From binman to Dave Brailsford devotee
Last updated on .From the section Football18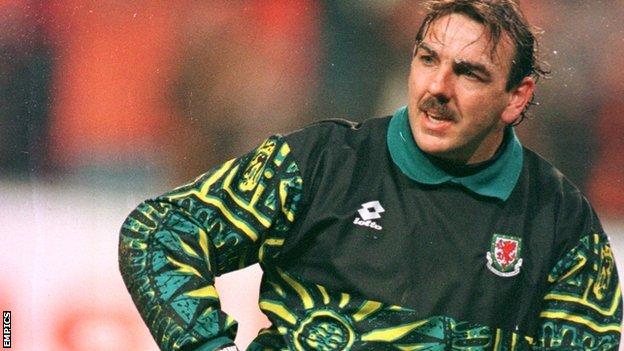 It is towards the end of my interview with Neville Southall when I tell him that, when I played five-a-side against his brother Jeff in Llandudno in the mid-1990s, he preferred to wear a bin bag rather than a T-shirt because "it was one less thing to wash".
Southall laughs and nods approvingly. It is the sort of thinking that appeals to him, and not just because he was a famous scruff himself.
The legendary former Wales and Everton goalkeeper was well known as 'the binman' too, of course - his new autobiography is titled accordingly.
But during his playing days, Southall would try anything that gave him any sort of advantage, even if it brought him a reputation as an eccentric as well as making him one of the best goalkeepers in the world.
His ideas included turning up at away games hours before his team-mates so he could familiarise himself with his surroundings, reading dozens of books about boxing and golf to improve his balance and spring, choosing a black kit because it made him appear bigger, and wearing cheap plastic boots when he played in the rain because they did not retain water.
"If I changed 100 things and got 1% better because of one of them, then it was worth it," Southall told me. "Anything that gives you an edge has to be. I would seek out anything that might help."
It is a mantra reminiscent of another North Wales sporting icon - Deiniolen's Dave Brailsford, whose 'marginal gains' approach as Great Britain's cycling supremo saw him mastermind Team GB's success in the velodrome at the London Olympics and, as general manager of Team Sky, oversaw Bradley Wiggins' Tour de France triumph.
Southall, who spent the summer entranced by the Olympics and Paralympics, is definitely a fan of Brailsford's methods.
"If you sit there and think 'I'm good' then you don't improve, do you?" he explains. "As an individual or an organisation you should be looking every day at how to get better. If you don't challenge the regular way of thinking then that won't happen."
A slightly less orthodox version of Brailsford he may be, but Southall is definitely on to something when he says a similar sort of 'outside the box' approach could also be applied to the Wales national team.
After all, the disastrous start they have made to their World Cup qualifying campaign - defeats by Belgium and Serbia - means there is plenty of room for improvement.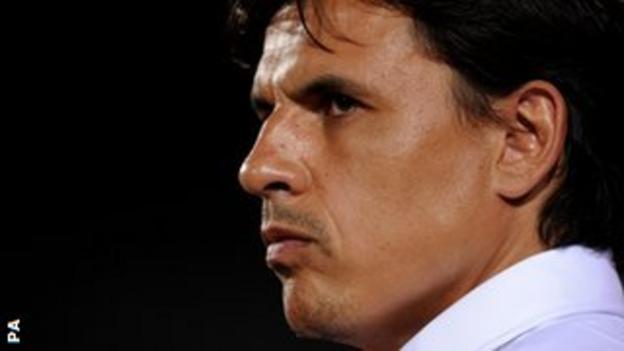 "I have been reading about Chris Coleman facing crisis talks after losing his first two games," Southall says. "But that is sending out the wrong message to everyone. Whatever happens, they need to back him for the whole of this campaign and make that public too.
"There has been too much negativity about Wales since Chris took charge, which is amazing when you remember the players we have like Gareth Bale, Joe Allen and Aaron Ramsey. We don't even tell our own players or fans that we have a good team, let alone the opposition."
Friday's Group A game against Scotland offers the chance for a fresh start on and off the pitch, according to Southall, who won a record 92 caps for his country and came agonisingly close to qualifying for both the 1986 and 1994 World Cups.
He expects results to improve but warns that having a sprinkling of world class talent alone will not end Wales' long wait to reach the finals of a major tournament.
"Getting the fans onside is vital," Southall says. "Playing for Wales should be seen as massively important to any player but you could understand it if our big stars were thinking 'I don't need this, I don't need to play in front of 10,000 people in a half-empty stadium when I play in front of 40,000 week in, week out for my club.
"So we need to put out the message that it is great to play for Wales and part of that is by getting people through the gate.
"There are two ways of doing that. The first is by being successful, and the second is by having a massive event. That way, if the football is terrible, then people have still had a good day.
"I turned up at Wales' last home game against Belgium and there were about 50 people watching the team bus go in. There were players like Bale who are worth millions of pounds on board but there is an apathy about us."
Changing that would have seen Brailsford & Co at Cardiff City's ground on Friday, if Southall had his way.
"For the Scotland game I would love to have seen all the Olympic and Paralympic champions paraded around the stadium before the game," he said.
"People would come to watch it and it would inspire everyone, our own players included.
"Or why can't the Welsh FA theme their home qualifying games up now, and say to fans 'help us make history'? Wales have hardly ever qualified for anything before, let alone a World Cup from this position so maybe this is the time. Let's turn this into 'the Great Escape' and have that music blasting out all around the ground as well.
"If you make it better for the fans, they can make the difference for the players.
"What we really need, though, is a national stadium in the middle of the country. At the moment fans in the north have to make a massive effort to get to games, and everyone deserves a fair chance. The Football Association of Wales thinks fans will turn up however they are treated, but they won't."