Celtic found not guilty by SFA over banner charges
Last updated on .From the section Football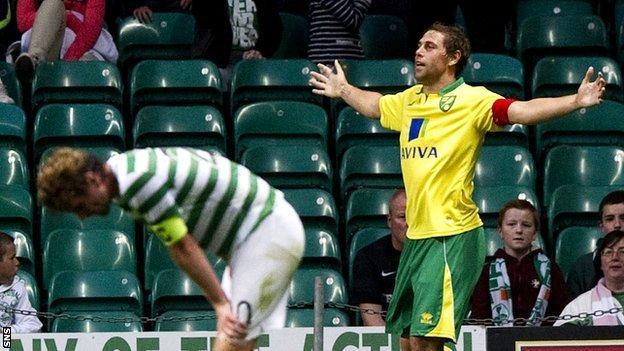 Celtic have been found not guilty of four alleged breaches of disciplinary rules, which all make reference to an "offensive banner".
The Scottish FA charged the club after the banner was displayed at a home friendly against Norwich on 24 July.
The banner is understood to feature a hooded gunman firing a rifle at a zombie wearing a Rangers scarf.
Celtic say they were "surprised and disappointed" that the case made it to a hearing.
The alleged rule breaches included failing to "ensure the good conduct and behaviour of Celtic FC supporters" and "prevent misbehaviour by spectators" as well as allowing the banner to enter the ground and be retained by fans so it could be displayed a second time.
A Celtic spokesperson responded via the club's website: "Celtic Football Club opposes all forms of offensive behaviour and unacceptable conduct and our supporters are well aware of what is expected in this regard.
"We are surprised and disappointed that after providing a significant volume of evidence and information about our safety procedures, that today's hearing was actually necessary.
"In addition to dropping several charges in advance of the hearing, the SFA's Judicial Panel also accepted that Celtic had not breached any SFA rules.
"We believe that Celtic Park's safety and security procedures are of the highest standard, something which was successfully demonstrated to the Judicial Panel by the club and by several witnesses, including independent industry experts."