Giovanni Trapattoni under pressure to deliver
By Thomas Niblock
BBC Sport NI
Last updated on .From the section Football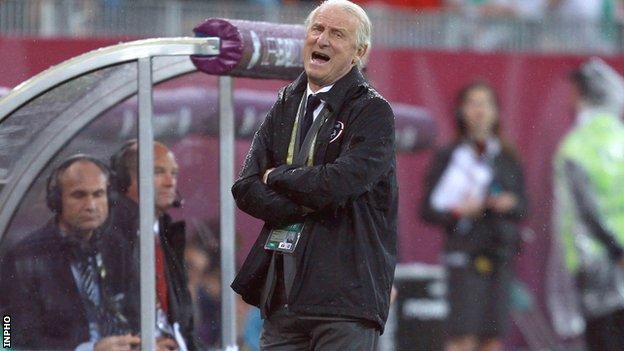 As I packed my bags for Euro 2012, I was asked by a well-known former Republic of Ireland player how do you think we will do?
I said if we get a point I think it will be a good accomplishment in what is an extremely difficult group.
"You're an optimist I see," he replied. Actually I am and I love the underdog story - sure everyone does.
However, I find it difficult to see how the Republic of Ireland can avoid defeat against Germany.
The Republic will play 4-3-3 on Friday with the Irish management believing it will help "contain" Germany. It seems a sensible decision.
Perhaps it would have been a sensible decision to employ such tactics at Euro 2012.
On Wednesday morning, it seemed certain Robbie Keane would start as a lone striker - although it's not really a lone striker, according to the Irish assistant manager Marco Tardelli
"Robbie gives us what he has, he (won't be) alone, he has another 10 players," said the Italian.
Let's be honest, Keane has been a great servant to Irish soccer.
However, that lone role up front does not suit him. Paul McShane kicking the heel of Keane in training this week was perhaps not such a cruel blow after all.
Harsh I know, particularly as Keane has scored an impressive 12 goals in 17 starts for LA Galaxy since Euro 2012, but the new system needs a new frontman.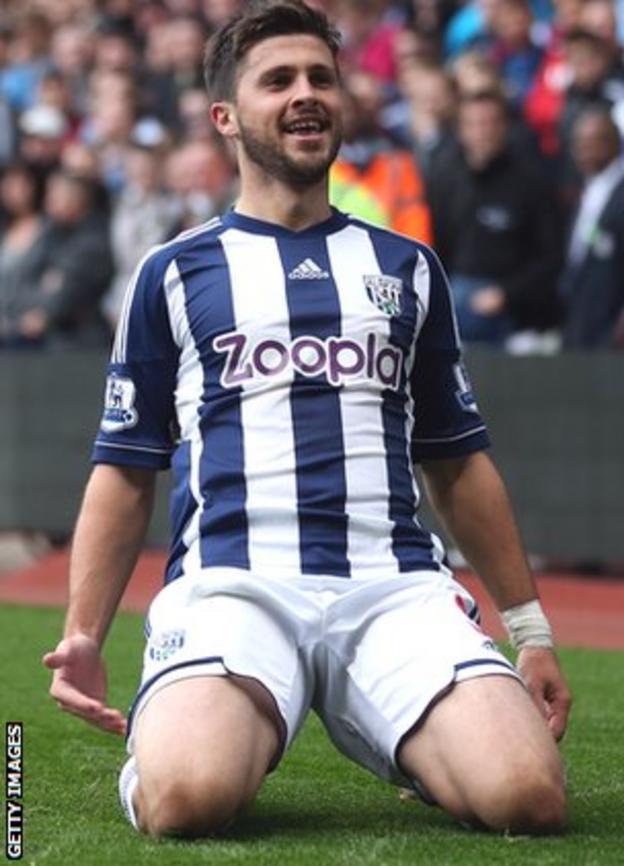 Surely now is the time for Shane Long. Four goals in the Premier league this season - a nice assist at the weekend and all four of his goals have been scored in the box.
Shane Long is the Premier League's most in-form Irish striker. West Brom manager Steve Clarke knows what he's talking about. The Baggies are sixth in the Premier League, one point behind Manchester United in second.
"Shane has been terrific. Quite often he's had to do the dirty shift by running around and upsetting two defenders because, in the main, we've only played with one striker," he said.
"He's a pest, he upsets the rhythm of the defenders. For a guy who's not the tallest he wins a lot of headers and occupies defenders really well. And he knows where the goal is. He's an international quality player."
Trapattoni doesn't seem to agree. The injury to Keane has forced his hand by playing Jonathan Walters as striker, but that choice was by accident rather than design.
The reality is the Irish team in terms of quality isn't brilliant. The boys in green probably would be punching above their weight to make it to Rio - most supporters accept that.
What seems to frustrate fans most is the belief that Trapattoni is not playing his best team, or the best system.
Trapattoni has won so much throughout his managerial career it's hard to question his decisions, but question them we do constantly.
Take the last four competitive matches for example. The Republic of Ireland have played Croatia, Spain, Italy and Kazakhstan.
All four performances have been shocking, and so many questions remain post-Euro 2012.
Why was Conor Clifford only called up on Tuesday? Why is Wes Hoolihan not involved at all? Does anyone remember James McClean? His goal against Stoke last year in the snow typified the gifted player he is.
After Euro 2012, and Trapattoni's decision to play two strikers in McClean's natural wide position in Kazakhstan and ahead of the former Derry City winger, I'm now asking myself a worrying question.
Was McClean a better footballer before he was called up to the Irish squad? His performance against Manchester City and generally this season suggests a player lacking in confidence.
Stephen Kelly's lack of game time at Fulham this season is perhaps the reason why he's lost out to Seamus Coleman. The Everton full-back hails from Donegal and he looks up to his county's All-Ireland winning Gaelic footballers.
"The Donegal team have been an inspiration to myself. They have been great for me, great for the county. They really are an inspiration." said Coleman.
The PFA Young Player of the Year nominee wants to have his "proudest day" on Friday.
"It's a dream, something I've always wanted to do. I've had my ups and downs but I'll never take this for granted. I know I say that all the time but I mean it, I'll never take it for granted."
So what about this German team? The last time they failed to win a qualifier was against Finland back in 2009, and the last time Dublin witnessed an Irish win over the top seeds in a qualifying group was Jason McAteer's goal against the Netherlands in 2001.
Simply put, Germany are one of the best football teams in the world.
However, there seems a slight vulnerability about Joachim Löw's side. Firstly, the coach has been there since 2004 (manager since 2006) but the plush German headquarters has no silverware to show for it.
They were fortunate to defeat Austria, they are without centre-back Mats Hummels, who has a bruised foot, while captain Philipp Lahm is suspended.
Stand-in captain Bastian Schweinsteiger alluded that team spirit isn't perhaps all that it should be. Perhaps there's hope.
Ireland are optimistic. Keith Fahey will play in a refreshing midfield with James McCarthy and Keith Andrews, and the Birmingham player is confident.
"We've got to believe we can get something out of the game, why not win it. It's 11 v 11, not 11 v 11 supermen."
It may not be 11 supermen, but they are a better footballing team than the Republic of Ireland.
Don't rule out something special on Friday night, but it will have to be extra special judging on current form.