Wayne Rooney can still improve, says Gary Neville
Last updated on .From the section Football207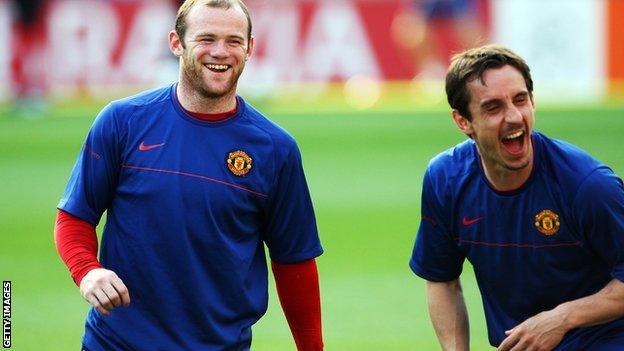 Wayne Rooney can still improve as a player, according to former Manchester United team-mate Gary Neville.
"At the age of 26, you always have to think that there's more to come," Neville told BBC Radio 5 live.
"We need to see Wayne Rooney improve and he needs to see himself improve."
Neville, now an England coach, added: "He's a wonderful player, one that is at his best when he's like the street kid; fighting for every ball, taking every free kick, every throw-in, tackling and heading, fighting to win."
The former England right-back also pointed to the examples Rooney can learn from in the Old Trafford dressing room if the 26-year-old is to further his game.
"Paul Scholes and Ryan Giggs have adapted their games," said Neville, who won eight Premier League titles, three FA Cups and the Champions League with United.
"Ryan Giggs has gone from a flying left winger to someone who now plays off the front at inside left as well as central midfield.
"Paul Scholes was a goalscoring number 10 player when he first started as a 16-year-old, now he's a holding midfield player who controls the game.
"You have to adapt. Rooney is still a centre forward, but he'll adapt over the next 10 years to become someone who's thought of in that same way as those two players."
Rooney had already netted his first senior goals in Everton's League Cup win over Wrexham, but it was his long-range effort to end the Gunners' 30-match unbeaten run in October 2002 that propelled him into the spotlight.
At the time, Arsenal manager Arsene Wenger said: "Rooney is the biggest England talent I've seen since I arrived in England. There has certainly not been a player under 20 as good as him since I became a manager here."
Four months later in February 2003, Rooney became the then youngest England international when he made his debut in the 3-1 defeat by Australia.
He went on to score four goals at Euro 2004 and was signed by Manchester United in a deal worth £27m in August of that year.
Since then, he has won four Premier League titles, two League Cups and the Champions League with Sir Alex Ferguson's side.
"These 10 years have gone well, I've been successful, winning trophies at club level," said Rooney. "The only thing missing is to be successful and to win things with England.
"I haven't been at my best for England, that is something I'm desperate to put right."
Despite moving fifth on England's all-time goalscorer list with two strikes in Friday's win over San Marino, Rooney's disappointment with his international record could stem from his poor showing at major tournaments.
After his starring role at Euro 2004, Rooney had to wait eight years for his next goal at a finals, the winner in England's 1-0 victory over Ukraine at this year's European Championship.
He has never scored at a World Cup finals and was sent off in the penalty shoot-out quarter-final defeat by Portugal in 2006.
But England boss Roy Hodgson believes that Rooney has fulfilled his potential and showed his faith in the striker by making him captain for the 5-0 success against San Marino at Wembley.
"He's an excellent player," said Hodgson. "Like all players in England that reach the heights, the likes of Steven Gerrard, Frank Lampard, John Terry, they come under enormous scrutiny and people forget how good they are.
"Despite his young age he's been a great servant to the country and I think we might be grooming him to be captain well into the future."