Bobby Williamson hopes to lead Uganda to Africa Cup of Nations
By Alistair Magowan
BBC Sport
Last updated on .From the section Football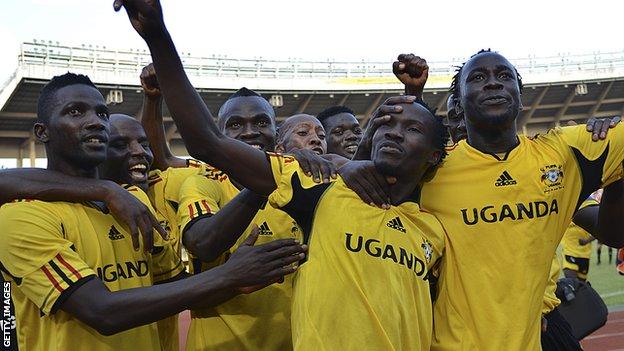 At the beginning of Bobby Williamson's reign as Uganda manager, the Scot asked his employers if they could record previous matches of upcoming opposition in order to study their tactics.
He was told by the Ugandan FA (Fufa) that it would not be possible. The Federation did not own any VHS video recorders or tapes, let alone DVD players.
Undeterred, the former Kilmarnock manager has now been in charge for the last four years and on Saturday he finds himself with a chance of leading the 'Cranes' to the Africa Cup of Nations for the first time since 1978.
It would, the 51-year-old admits, be the "biggest achievement" of his career should his team qualify for the 2013 finals, given they are 1-0 down after the first leg to the reigning champions Zambia.
Saturday's game certainly isn't the best chance of reaching the Cup of Nations in Williamson's reign. Uganda missed out on the 2012 competition by one goal when the team drew 0-0 with Kenya in last year's qualifiers. But at least now the Glaswegian has the resources to study the opposing team in attempting to reach South Africa next January.
And should Uganda succeed it would make some occasion, coming two days after the country celebrated 50 years of independence.
"The situation has improved at Fufa since I started," Williamson told BBC Sport from Uganda's capital, Kampala. "I managed to get tapes of the Zambia games in the Cup of Nations which were very helpful because they used a [specific] corner kick which we were able to combat and prevent from happening.
"We were also aware of a long throw-in they used which we defended quite well in training. Unfortunately in the first leg, the linesman didn't realise that the Zambian player was on the pitch when he released the ball and we conceded a goal from that so it was disappointing the official didn't do his job properly."
Uganda go into the tie unbeaten at home since 2004, and have been boosted by the return of experienced strikers Geoffrey Massa and Brian Umony following injury. The visitors, meanwhile, will be without star midfielder Rainford Kalaba to add to their grumbles about the pitch at Uganda's Namboole Stadium.
But 51-year-old Williamson, who has also had spells in charge of Hibernian, Plymouth and Chester, is measured about his teams chances.
"It would probably be the biggest achievement of my career if we made it through," he admitted. "I try and remain focussed because it will be difficult. We are quite formidable at home but it's getting that goal. Zambia are very good defensively."
Williamson, who would be the only British coach at next year's Cup of Nations, is an intriguing character mixing softly-spoken charm with a sharp wit.
The former striker does not look like the kind of person who you would like to get on the wrong side of and has some forthright opinions of the press and football in general. When I asked him for a prediction about a game once, he replied: "I have no idea what is going to happen. That's why I go to watch."
Some may question what makes coaching an unheralded east African team appeal so much. But it is clear that he prides himself in guiding his players and hopes that reaching the finals will finally make the footballing world take notice of a nation, he says, is bristling with talent.
"It's the most rewarding job I've had," he said. "The players are very respectful and hungry for success and they are as professional as they can be, given most are semi-professional. They want to learn and it's a joy to work with them and represent them as a coach.
"I'll help them the best I can to go further in their careers, whether it's in Uganda or elsewhere, but we really need to have the catalyst of winning this game and qualify for one of the major tournaments. Hopefully then people will start looking at Ugandan footballers and think they can do a job for them somewhere.
"I want to reward these guys with a win on Saturday and qualify for a major tournament. Thirty-five years is a long time, and I look at the way they have been unlucky, missing out on goal difference and last game scenarios. It's about time they made that last step."