Man City's Kolo Toure looks to inspire the next Ivorian generation
By Richard Conway
BBC Sport
Last updated on .From the section Football
News that Kolo Toure had arrived home in Ivory Coast's biggest city, Abidjan, didn't take long to spread.
Within two hours of Toure's arrival, for a visit to a local school to help the fight against childhood malnutrition, around 300 people gathered with "Kolo Toure Fan Club" signs, singing his name and jostling to catch a glimpse of one of Africa's star names.
The presence of the crowd gave Toure, 31, pause for thought.
In a week in which the behaviour of some of the Premier League's biggest stars has, once again, been under scrutiny, Toure believes it's time for the top players in the Premier League to live up to their responsibilities.
"There are fantastic players but they don't have the right education," he says. "They don't respect. And that's really bad for the kids, because they want to be like them."
Toure, talking to BBC Sport while visiting Niangon Sud Sicogi primary school on the outskirts of Abidjan as an ambassador for Save The Children, wants his Premier League peers to think more about their actions.
"Sometimes we don't know how important we are. We are role models. The way I behave is the way they will want to be. If I use bad words, they will use bad words."
Following a period of political and social unrest over the previous two years, Ivory Coast is returning to stability.
With that peace comes a chance to take action on the issues that contribute to 300 children dying every hour, every day, on the African continent due largely to preventable diseases.
And with chronic malnutrition affecting a third of all children in Ivory Coast, Toure is determined to help bring about change.
"It's so important that kids have the right food, especially in Africa," he adds. "We have everything to make the food better, to make the kids happy but no education.
"Children often don't know which food to eat - foods to give you the power to live, the power to be happy, the power to grow. It's very important to educate them and it's a key thing in Africa."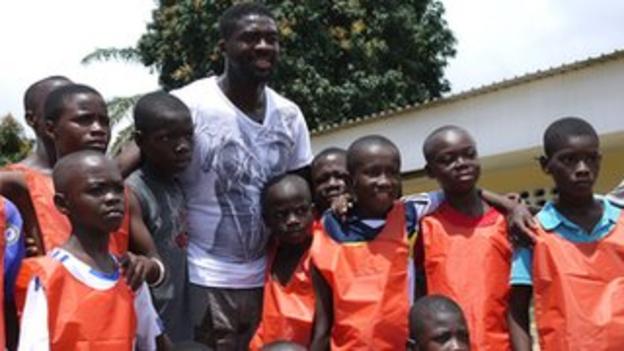 Standing in a neat, ordered classroom the Manchester City defender reminisces about moving to Abidjan when he was nine years old and the hours he spent playing football with brothers Yaya and Ibrahim when lessons were over for the day.
Toure left in 2002 to join Arsenal - an "unbelievable thing" as he describes it - for £150,000. He still refers to the man who signed him for the Gunners as "Mr Wenger".
And, in swapping west Africa for north London, Toure believes he forged the way for a host of Ivorian players, such as Didier Drogba, Emmanuel Eboue, Didier Zokora and more recently Cheick Tiote, to join Premier League teams in the following years.
With a picture of the Ivory Coast team hanging on the classroom wall, Toure points to a group of boys busy consulting their textbooks. He hopes they will be inspired by his footballing generation.
He says: "By seeing us, they know that they can make it as well. That's really important.
"In those boys we could find the president of the country, or an engineer."
Toure is currently fourth-choice centre-back at Manchester City and, driving to see his personal trainer in a quieter suburb of Abidjan, he ponders the question of life after his football career is over.
He says: "I love football. I know I will stay in football, even if it's not coaching the first team. I love to train kids. They are natural.
"There are a lot of kids that love football but they don't know how hard it is to make it. They think about money first. They don't love the game. To make it you need to love the game.
"Sometimes I see kids and the first question they have is "which car do you have?" They are eight years old, 10 years old. That's not right to me. Football isn't all about money. It's about the passion."
But the lack of black coaches and managers at the top of the game also troubles Toure.
He says: "I would love to be involved in that and try to help with that as a black man, as a black manager. There are not that many black managers in the football world. We should have much more. I'm one of the contenders!"
For now, Toure's focus remains on helping Ivory Coast reach this winter's Africa Cup of Nations.
If they beat Senegal in the second leg of a play-off this weekend - no easy task given the combined firepower of Newcastle United's Papiss Cisse and Demba Ba - Toure will travel to South Africa for the tournament.
He adds: "The fans love us but we haven't won the African Nations for them. The day that we do that will be massive. I won the Premier League. Didier Drogba and Yaya Toure have won the Champions League.
"But one thing is missing - this Africa Cup of Nations. By winning that it's like giving a gift to the country. They love us so much. But we hope that God will give us that power to bring back this African Nations to them."