Premier League considers youth incentives for clubs
By Alistair Magowan
BBC Sport
Last updated on .From the section Football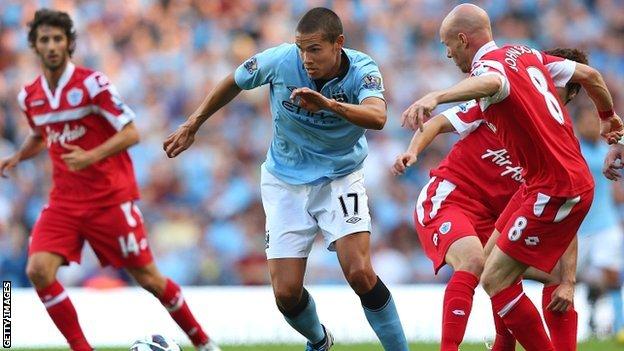 The Premier League is considering the introduction of financial rewards to clubs who develop more Britons as part of its Elite Player Performance Plan.
British under-21 players made 4% of the league's total appearances last season.
And only 34% of the top flight's players are homegrown compared to 52% in Germany and 72% in Spain.
"We don't want to be like tennis; having the best competition in the world but little British showing," said director of youth Ged Roddy.
The Premier League is set to receive a significant increase in TV money from next season, with the domestic rights from 2013-2014 being sold for £3bn over three years.
It is expected that the overseas rights deals, which are going out to tender, will also increase on the current deal of £1.4bn.
With similar incentives already in place in rugby union and cricket, Roddy said: "I don't think quotas will ever get through the shareholders and I don't think we would want to. We want players to come through on merit.
"In youth development we need to make sure that, as the game shifts, we are not left behind."
The £320m Elite Player Performance Plan (EPPP) has been introduced this season as a way of improving the development of youngsters in England, but there are still those who are sceptical about its ability to deliver into clubs' first teams.
As well as boosting numbers of British homegrown players, the plan intends to increase training time amongst youngsters, improve coaching standards and provide better measurement of each academy's performance.
Part of that process includes the grading of the academies and a new under-21 league, both of which have already begun this season.
Manchester City's chief football operations officer Brian Marwood admits that the club are still a few years off being able to provide first-team manager Roberto Mancini with British players via the under-21s.
But he says they are attempting to improve their development record with the new £100m-plus Etihad Campus due to open in 2014.
"Our priority is to produce a player that can get in Manchester City's first team," Marwood told BBC Sport. "That may be to the detriment of the England national team and while I am a big believer in the system, we have to be realistic and say if we are trying to produce that real top quality, if they happen to come from another country and we've developed them then we shouldn't be ashamed to embrace that.
"Buying ready-made players is not the long-term plan for this football club. What we are trying to do is lessen the spend in future years by bringing the quality through our system. If we can't bring the quality through our system then we might have to go and do that.
"What we can't expect is our owners to keep spending at the rate they have been spending over the last three or four years."
The Premier League plans to address these issues by boosting the number of coaches in the system to 500, and increase playing time for 9-16 year olds.
But there are fears that with catchment areas abolished and compensation fees reduced, the biggest clubs will scoop up top talent from Football League clubs, thereby ending their youth systems.
Roddy rejects this and says with each age group at an academy comprising 15 players he does not anticipate mass movement. And if the system does break down, he says the Premier League will look to address it.
"When we modelled the compensation system, we created a system whereby the buying club would still have to pay significantly if the player makes it in terms of contingency fees," he added. "And a club can still do a deal with another club if there is a market for a player.
"But I would caveat that; if you are going to build an elite system and the intention is to get the best players gathered together in the best environment, then I'm not going to apologise for that. It's a pre-requisite for creating the system."