Price of Football - Premier League
Last updated on .From the section Football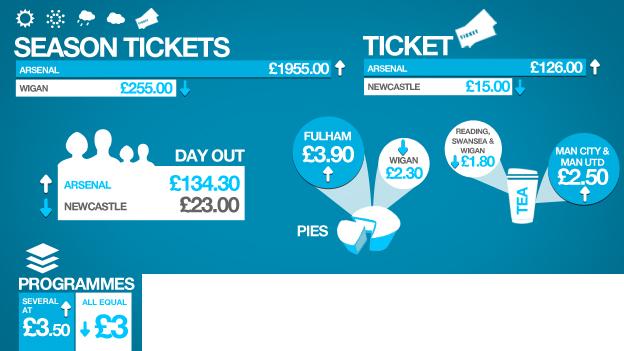 Newcastle United offer the cheapest day out for adult fans in the Premier League, with tickets starting at £15.
BBC Sport's Price of Football study shows that Newcastle, Aston Villa, Fulham and Wigan all offer a ticket, programme, pie and cup of tea for less than £30, with Newcastle the cheapest at £23.
Chelsea's cheapest day out is the most expensive in the top flight at £49.60, while champions Manchester City have the second-cheapest season tickets in the league at £275.
The most expensive matchday ticket in the division is at Arsenal, with some seats for the club's top category games costing £126.
All clubs offer a host of special offers on certain fixtures, but they were asked for the cheapest and most expensive matchday tickets which were not part of any promotion.
Arsenal's most expensive seat has gone up from £100 last year, but they have also reduced prices. Last year's cheapest matchday seat was £35, and this year it has come down to £26.
Arsenal chief executive Ivan Gazidis says clubs in the top flight must be careful not to take their supporters for granted.
He told BBC Sport: "During the last year we spent a lot of time working with our fan groups to develop our ticketing strategy and create a wider and broader range of prices.
"That's been a collaborative effort between us and our fans which has been welcomed by our fans as a positive development.
"It's something that all of us in football need to keep an eye on and keep responsive to because what we don't want to do is price out particularly younger fans from the live experience of football.
"That is such a fundamental part of the bond young people form with football. It isn't just an issue for Arsenal but across the game."
Arsenal's cheapest season ticket at Emirates Stadium is £985 and the most expensive £1,955, although that includes seven FA Cup or European games in addition to the standard 19 Premier League matches.
Wigan have the cheapest season tickets on offer in the top flight - they start at £255 - with the most expensive seat at the DW Stadium costing £310 for 19 Premier League games.
A programme in the Premier League will cost fans £3 or £3.50, while the cheapest pie can be found at Wigan, who charge £2.30. Fulham's is the most expensive at £3.90.