Swansea's Garry Monk angry at claims of rift with boss Laudrup
Last updated on .From the section Football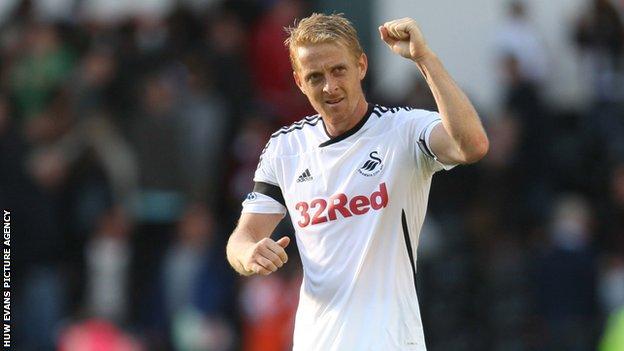 Swansea captain Garry Monk has revealed the club's players are "angry" at national newspaper reports of a rift with manager Michael Laudrup.
Monk has dismissed reports of a player revolt in a statement issued by the club.
The Swans have not recorded a win in their last four Premier League games.
"It was quite funny reading an article in the paper this morning saying that the senior players were ready to revolt against the manager," said Monk.
"Well I say funny, in fact it made most of the boys angry.
"The article came as a surprise to us all because we are a close-knit club, always have been and always will be, whatever people say or write.
"People from the outside have written us off every year since we started to move up the divisions since League Two, but we are still moving forward as a club, on and off the field."
Laudrup was appointed in the summer on a two-year deal, replacing Brendan Rodgers who left to become the new Liverpool boss.
Monk has echoed the sentiments of chairman Huw Jenkins and manager Laudrup who also denied reports of a rift in a club statement on Thursday.
"There are always rumours flying around every football club, but I can assure you that there is no problem here and everyone is pulling in the same direction," said Monk.
"If there is a problem then everyone knows that the door to the manager's office is always open and you are listened to and treated the same whether you are a senior player or a young pro and that's the way it should be.
"Everyone wants to keep driving this club forward to continue the Swansea City success story.
"Nothing will detract us from that goal, whatever people from the outside say, because we owe it to those fans that have shown us unbelievable support over the years.
"We are different to most clubs in the fact that everything is so close-knit, from the chairman down to the players and the interaction with the fans.
"Even the chairman comes down to watch us train virtually every day. Most of the players chat openly and regularly with him throughout the week - and most of it isn't even about football.
"If people want to try and unsettle us, then fine, because I can guarantee it will only make us stronger.''
Swansea, who started their Premier League campaign with wins over QPR and West Ham, face Wigan after the international break at the Liberty Stadium next Saturday.
Laudrup's side earned a 2-2 draw after an impressive comeback against Reading to maintain their 11th-place spot in the top flight.