Liberia to arrive less than 24 hours before Afcon tie
Last updated on .From the section Football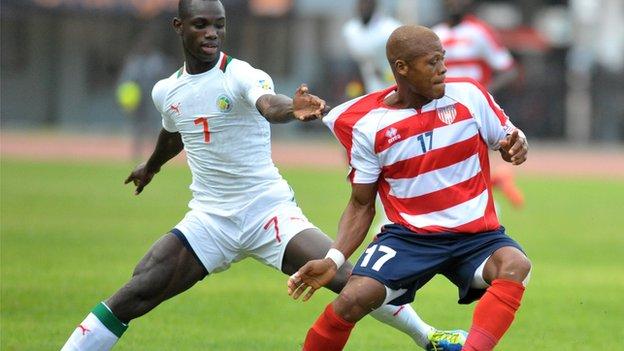 Liberia appear to have resolved their travel issues ahead of their Africa Cup of Nations match with Nigeria on Saturday, but will only arrive in Calabar on Friday evening.
There had been fears earlier that the match may have to be delayed as the flight carrying the Liberian delegation was refused permission to land in Nigeria.
Liberia's squad were due to arrive in Nigeria on Thursday but their aircraft remained stranded in Ghana, where they have been based.
A spokesman for the Liberia Football Association (LFA), Henry Flomo, said: "We hope to leave our base at 1530 GMT to join up with the technical delegation, who are flying in from Monrovia.
"We will then travel together on a charter flight to Calabar.
"We expect to arrive in Calabar very late tonight and hope to have a chance to train on the pitch very early tomorrow morning."
This is hardly ideal preparation for Liberia, with the tie level at 2-2.
Flomo's comments will only further cloud this confusing tale after the president of the LFA, Musa Bility, told the BBC on Thursday: "Unfortunately, as of four o'clock, the aircraft still had not received landing confirmation from the Nigeria airport authority.
"We do not know why there has been a delay. Our aircraft people said they could not fly after four o'clock because the airport at Calabar closes early."
Had the flight been granted clearance on Thursday, it is unlikely that the Liberia delegation would have arrived together, as Nigeria were expecting. The squad has been based in Ghana, whilst the technical delegation remained back in Monrovia.
The Nigeria Football Federation (NFF), through their head of international competition, Bola Oyeyode, issued the following statement at lunch-time on Friday:
"As of Friday morning, the NFF was still expecting the 125-member Liberian delegation, as against information from the Liberia Football Association that the team would land in Calabar by 7.30pm on Thursday.
"We're still expecting them to advise us on their new arrival time. They got in touch with us on Thursday night to say that they had a problem with the aircraft they wanted to charter and that they would find their way into Nigeria on Friday.
"We are still expecting them for the game on Saturday."