Old stars look to add sparkle to troubled Cameroon
By Leocadia Bongben
BBC Sport, Yaounde
Last updated on .From the section Football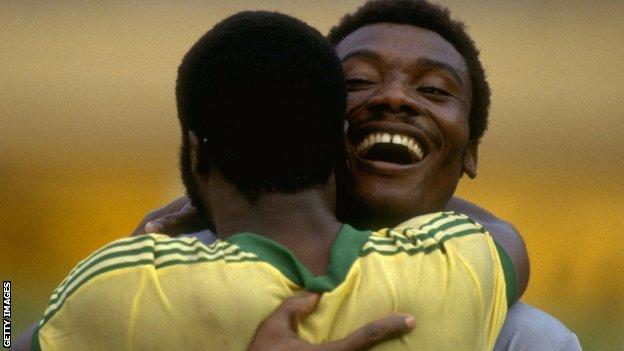 It seems that Cameroon are trying every trick in the book as they bid to overcome a 2-0 deficit and qualify for the Africa Cup of Nations, at the expense of Cape Verde.
Superstar striker Samuel Eto'o is back in favour after agreeing temporarily to set aside his differences with the football federation.
Notable names from yesteryear have since been wheeled out in an attempt to show solidarity ahead of the crucial second leg.
Led by the 1990 World Cup revelation, Roger Milla, a steady stream of well-wishers visited the players on Thursday night, including Victor Ndip Akem, Eugene Ekeke, Theophile Abega, Emmanuel Kunde, Libih Thomas, Djonkep Bonavanture and Joseph Antoine Bell.
The visit was intended to galvanise them for the challenging encounter on Sunday, against a team which has never previously qualified for the Nations Cup.
Cameroon missed out on the 2012 edition of the Nations Cup, and their first leg 'faux pas' against Cape Verde has put them on the brink of elimination at the final hurdle.
The former players are unanimous in their belief that the Indomitable Lions must qualify for the Africa Cup of Nations.
Ekeke said: "Cameroonians are wondering if they are going to watch the African Nations Cup on television next year again if the Lions do not qualify.
"We have come to tell you not to be afraid, have confidence. Let the old who have lived this kind of experience serve as guide to the younger ones.
"You have the qualities and what it takes to grab the qualification. Do your job, the people are behind you."
Cameroon lost 2-0 to the Blue Sharks of Cape Verde in the away leg and are desperate to turn the fortunes around.
Abega Theophile was a member of the Nations Cup-winning squad in 1994. He said: "It saddens me that Cape Verde is a menace to Cameroon. You have the qualities, but what is lacking is the pride of past generations of footballer.
"That pride leads you to reject defeat, and revolt against anything short of victory."