Rangers chief executive Charles Green predicts European overhaul
Last updated on .From the section Football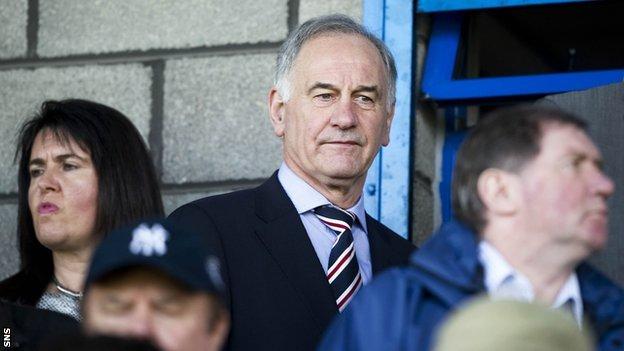 Chief executive Charles Green believes Rangers will be involved in the formation of a new European league.
Green's consortium relaunched the Ibrox club after the former incarnation could not be saved from liquidation.
Rangers currently play in Scottish Football League Division Three.
"There will be a European league because big teams can't keep subsidising small teams for the next 10 years because they will go stale," said Green.
"Arsenal don't want to play Southampton or Swansea, but ask them if they want to play Celtic or Rangers. It's what the fans want to see.
"Fans across the world want to see Manchester United play Barcelona, not just once every few years but every season."
Green is convinced Rangers would be part of any new European league.
"If there are two divisions of 18 clubs, how could Rangers not be a part of that?" he asked. "I'm convinced it will happen because otherwise where will the revenues for the top come from? These days Arsenal are struggling to sell out their game against West Ham."
Last month, BBC Scotland revealed Scottish clubs, including Rangers, were to discuss the possibility of being part of a new European regional league set-up.
Uefa is believed to be open to change as it grows increasingly concerned by the polarisation between the top clubs and top leagues.
Green added: "How can Manchester United's revenues be £320m and Aston Villa, who are completely useless, get £250m?
"What Manchester United put into world football is massive, but what they take out of it is a joke and they won't put up with that for much longer."