Matt Bloomfield column: Enjoy the lower leagues

By Matt Bloomfield
Wycombe Wanderers midfielder
Last updated on .From the section Football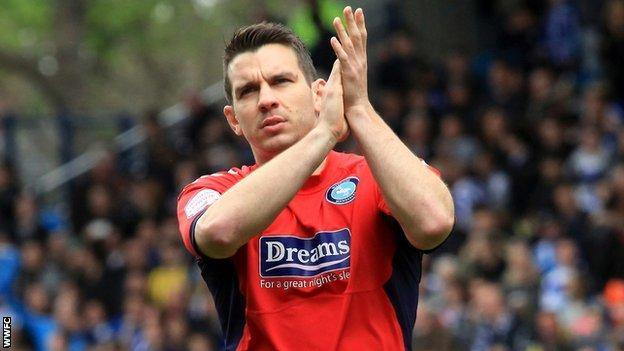 The international break gives a chance for the Football League to shine domestically this weekend.
Being a football addict, I love watching any football that is televised. This weekend I will watch international football, League One and League Two football.
Maybe it's because it is more applicable to my life and career, but I enjoy watching League One and Two football just as much as a Premier League or international game.
It is such a different viewing experience, but in my eyes an equally enjoyable one.
It is obvious that there will be differences in quality between the games. On a regular basis you will not see the same quality from League Two that you will see in internationals.
This does not mean that players in League Two do not have the quality to grace the top stage. I have seen numerous players over my career adapt to life playing in the Premier League after plying their trade in the bottom league of domestic professional football.
Some of these players have stood out and it has been quite apparent that they would always reach the top. However, it is not always possible to pick them out.
I have played against some players who you would never have guessed would go on to have the careers that they have. To succeed you need a bit of luck along the way, and of course a manager that really rates you.
I also think that the bottom two divisions have grown in stature in recent years. The influx of top-class internationals into the Premier League has meant that players are filtering down the system and the standard has improved as a result.
There are players playing in Leagues One and Two now who you would never have thought would be playing their football at this level. I'm genuinely surprised by some of the signings that have happened over the summer and more recently.
I'm not talking about 38-year-old players trying to prolong their careers for the love of the game, I'm talking about 29 or 30-year-old players - those who are in their peak years.
Players who, for one reason or another, are not playing at the top level anymore. Instead of dropping down to the Championship, some of these players are playing in League One or League Two.
As a result the competition for places and the distance from the top teams to the bottom teams has reduced. Every game is a battle and there are definitely no easy games in our league this season.