Sheffield United cheapest team to support in the Football League
Last updated on .From the section Football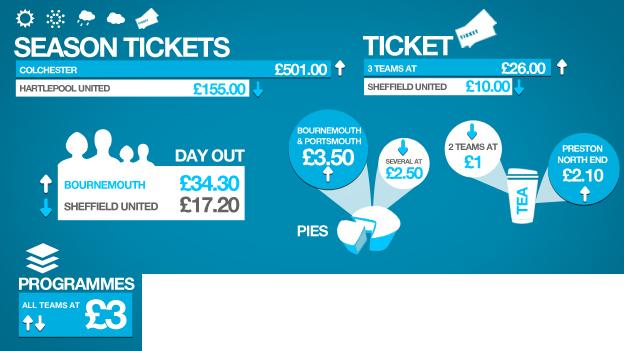 Sheffield United provide the cheapest matchday experience in the Football League, according to
A total of £17.20 can buy a ticket to a game, a programme, a pie and a tea.
That makes a trip to Bramall Lane over £4 cheaper than any other League One club, with Tranmere offering the next cheapest matchday experience at £21.50.
"We had our highest home attendance [against Bournemouth] with this ticket price," said spokesman Kevin Cookson.
"In that game there were eight goals, so it was certainly value for money."
Bournemouth offer the most expensive matchday experience in League One.
The highest-priced ticket for a game at the Goldsands Stadium costs £26 and that, plus a £3 programme, £3.50 pie and a £1.80 cup of tea adds up to £34.30. The cheapest ticket at Bournemouth is £18.
The cheapest ticket to watch top-of-the-table Tranmere is £14.50.
Last season's League Two champions Swindon have frozen their ticket prices, with their cheapest ticket at £19 and most expensive £25, while the cost of a programme and a pie also costs the same as it did while they were in the lower division.
However, promotion has seen the cost of a tea rise, with football fans having to pay 20p more than last year.
"When you come here, to compare with many other stadiums, you have a more comfortable situation," said Swindon manager Paolo Di Canio.
"Last year our programme won programme of the year for League Two, which means the product is different and worth the money.
"If you have a drink in a cinema it is expensive, so I think for what we offer it is reasonable."
Coventry, relegated from the Championship last season, have recognised the need to lower their prices to encourage fans to continue coming through the turnstiles, despite playing in a lower division.
Last year, the Sky Blues' cheapest and most expensive tickets were £22 and £29 respectively, but they have reduced both prices by £4, now charging £18 for the cheapest ticket and £25 for the most expensive.