Q&A: Women's Super League legacy after season completion
Last updated on .From the section Football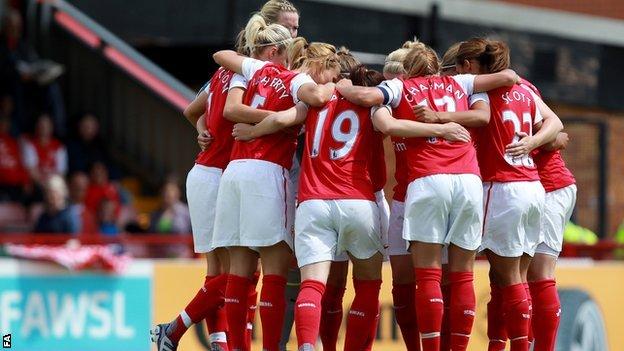 The Women's Super League has just completed its second season, with the league seeing a 10% increase in attendances on the 2011-12 campaign.
The women's game has received unprecedented support throughout a successful Olympic Games, where over 70,000 watched Great Britain's women take on Brazil at Wembley.
Clubs such as WSL title winners Arsenal, Birmingham and Bristol Academy are all seeing regular gates of more than 500 per match and the hope is at the start of the 2013 campaign the majority of WSL clubs will attain those size of crowds.
But what does the future hold for the clubs involved in the women's game? And what do the clubs need to do to keep improving their fanbase season on season? The FA's head of the national game Kelly Simmons explains.
Q: In your research undertaken after London 2012 you say there's been a 15% increase in people who would consider going to a WSL match. Why do you think that is? Are you hopeful those 15% will actually act on thse instincts and go to a match?
A: There is definitely increased awareness of women's football post-Olympics. Our internal research tracker (1,000 football fans every month) shows we sit at 36% awareness for the WSL, above the Capital One Cup and Europa League. The challenge is translating this into fans going to matches. It's not an easy task. We have seen an increase in league attendances post Olympics, for the big showcase and local derby fixtures (over 1,000 for Liverpool v Everton, 2,500 for the FA WSL Continental Cup Final between Arsenal and Birmingham) but this relies on significant marketing effort to let fans know when and where the games are on.
Q: With more than 80,000 watching the women's Olympic final, do you believe high attendances can be achieved in the near future? If so, how are clubs trying to do this? What is the FA doing to help these clubs?
A: Yes - but we need to manage expectations. With the might and budget of the Olympic movement, four years planning went into getting 72,000 at Wembley for an iconic match featuring England and Brazil. This is inspirational as it shows you what can be done, but contrast the Women's Champions League Final which had 13,000 at Fulham and the Fifa Women's World Cup in Germany, which regularly filled 20-30,000-seater stadia through the competition. Our ambition is to also help WSL clubs secure 500 to 1,000 attendances over the next few years.
Q: What do you hope will improve going into the third season of the WSL in the terms of support from fans rather than player participation?
A: Our goal is increased attendances of 500 for every game, for each club. Some clubs exceed this now - Arsenal, Birmingham and Bristol, but we want this across the league, and for all fixtures. We also want a paying crowd who value the experience of going to a match and are willing to pay. So, we want a decrease in complimentary tickets, and an increase in paying fans, who pay a decent but affordable price for watching a WSL match live (£5-£8 for an adult, £3-£5 for a child). We also want repeat fans, spreading the word and bringing along new friends and family, so we can convert more to the game.
Q: Can you foresee the WSL in the future being looked upon as an equal to the Premier League?
A: I think it's impossible to compare the two on a like-for-like basis. As the top women's football league, yes, we are ambitious to showcase the very best in English football, in a way which attracts fans in large numbers, and appeals to a broadcast audience and commercial sponsors. In that way we are similar, but we are at an early stage of our development, just completing our second year, with eight semi-professional clubs. We have clear ambition to develop and grow the semi-professional game, and the league as a valuable commercial asset. There's lots we can learn from the Football League and the Premier League here .
Q: What do you believe still needs to change for fans to be more interested in the role of the WSL?
A: There is still some work to do on getting stadiums closer to major population centres - modern, clean, family-friendly stadiums in cities, easy to access on good transport networks. Somewhere our typical family is happy to come and feels safe and clean. Liverpool playing in Skelmersdale is not an easy sell. Also, we need a more entertaining matchday experience off the pitch. Things to do for the family, affordable merchandise, space for the kids to move about, somewhere for the kids to kick a ball.
Q: As well as the many positives do you see any negatives that still need to be looked at and worked on for the WSL to move forward as a league? And are you looking to expand the current WSL league structure to incorporate new clubs in the future?
A: We need to open up the WSL, connect it to the wider game and introduce a second tier with promotion and relegation so that we do not have eight clubs in isolation. This will happen in 2014 when we move to a two-tier FAWSL 1 and FAWSL 2 structure. Ideally, we would have more teams competing in WSL1, but we do not yet have the strength and depth of English talent to expand much beyond eight top-flight clubs and we do not want to dilute quality. We will expand the league in the future when we can do so without compromising the quality of the competition and have better quality stadiums, which are modern, family friendly, of a modest size and at the heart of the community. We need more commercial support and investment into the game from partners. There's a clear and affordable opportunity for commercial partners - including men's football clubs - to access a significant family market and to communicate differently through women's football. And we need increased awareness and media coverage of the fixtures, results, tables and match reports.
Kelly Simmons was speaking to BBC Sport's Karen Fazackerley