Portsmouth: Balram Chainrai denies takeover problem
Last updated on .From the section Football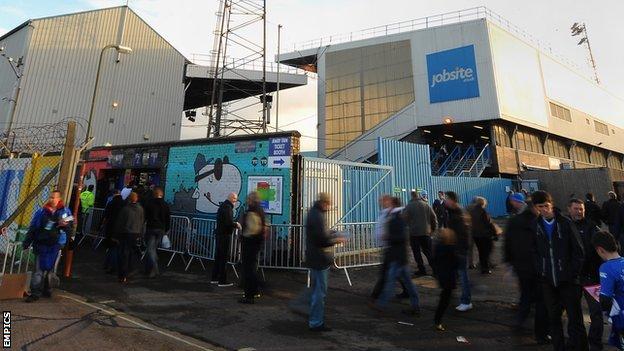 Hong Kong businessman Balram Chainrai has dismissed reports of problems with his takeover of Portsmouth FC.
Chainrai's Portpin were thought to have been administrator PKF's preferred bidder for the League One club.
But it is understood the Football League raised concerns over his suitability to run the stricken club at a board meeting on Thursday.
"Our discussions with the Football League have been positive and are progressing," said a Portpin statement.
The Portsmouth Supporters' Trust are vying with Chainrai for control of the club and it is thought administrators PKF will now resume talks with the PST to present its bid to the Football League.
Portsmouth, around £61m in debt, have been in administration since February.
It is thought there are concerns as to whether Chainrai's Portpin would pass the 'owners and directors' test.
One of the stipulations of the test is that an owner or director cannot have been involved with a club that has twice gone into administration.
Chainrai was in control of Pompey when they went into administration in 2010, and may have had some involvement as a shadow director when they were placed into administration for a second time in February 2012.
Portpin has always denied this is the case.
"As far as we are aware, we have satisfied the majority of the criteria and we expect now to work through the last remaining points with the Football League in the coming days," added the statement, issued to BBC Sport's Matt Slater.
"We are very confident that we are in a position to complete the acquisition of Portsmouth Football club in the near future."
The Hong Kong businessman is owed £17m by the club and holds Fratton Park as security.
The League has refused to comment publicly on Thursday's meeting but did confirm to BBC Sport on Saturday "the board were given an update on the current situation".
Although this is good news for the Trust, there is still a long way to go before any deal is finalised.
The PST is led by Ashley Brown and backed by among others local businessman Iain McInnes, and has offered Chainrai £2.75m for Fratton Park.
It is understood PKF could also consider another bid, although this is unlikely.
UK investors Portco, led by Scottish businessman Harry Kerr, are also interested in buying the club.
They are also one of three parties interested in buying land around Fratton Park that is up for sale to the highest bidder after owners Miland Developments 2004 Ltd went into administration.
Portpin and the property developer working with the PST - Stuart Robinson - are thought to be the other two suitors for that land.
Administrators of Miland Developments David Rubin & Partners LLP confirmed to BBC Sport an announcement on the sale of that land will be made next week.
If the PST did take control of the club it would try to force a court to release Chainrai's charge on Fratton Park and sell them the stadium at the "market rate".
Another possibility is that PKF could ask Portpin and the PST to reach an amicable solution for the sale of Fratton Park.
If not, that could lead to a costly legal fight that would ultimately put the club into more debt.