Oldham's Lee Croft denies he racially abused ball boy
Last updated on .From the section Football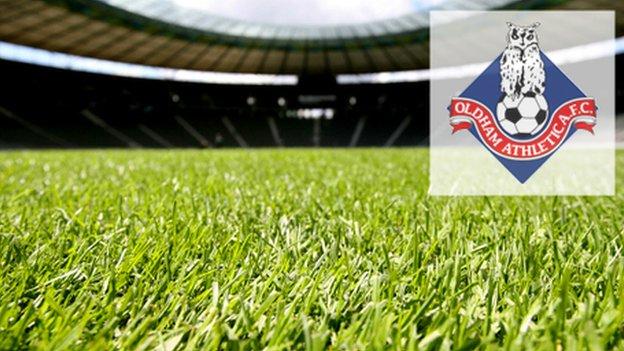 Oldham Athletic winger Lee Croft has denied allegations that he racially abused a ball boy at Sheffield United on Saturday.
The League One club has been informed that South Yorkshire Police are investigating the allegation.
"I've run over to get the ball, he's kicked it away and in my frustration I've said 'what are you doing?' and had a go," said the 27-year-old Croft.
"I've not said anything to offend the lad, I wouldn't do that."
The Football Association said it was aware of the allegations and was looking into the matter.
A statement for the League One club said: "The player has categorically denied the allegation. The club and his team-mates are fully supportive of him.
"The club will not be making further statements in relation to this matter."
However, Oldham manager Paul Dickov said United fans were "trying to get [Croft] into trouble" with the accusations.
"I've spoken to Lee about it and he categorically denies it," said Dickov.
"If something has happened, we will deal with it because we won't put up with it. But Lee Croft has not got that in his body.
"I've been told a lot of people have jumped on the bandwagon very quickly. The kid himself has said he doesn't know what was actually said.
"I'm never going to condone anything like that but, knowing Lee as I do, I trust him completely."
Croft added that he apologised to the ball boy in question but his apology was not accepted.
"He didn't want to know and pushed my hand away," said Croft.
"As far as I'm concerned the matter is finished. Can I complain about them [the United fans] abusing me all game? I've not done anything wrong."