Senegal v Ivory Coast: drama turns to chaos as riot ends Dakar tie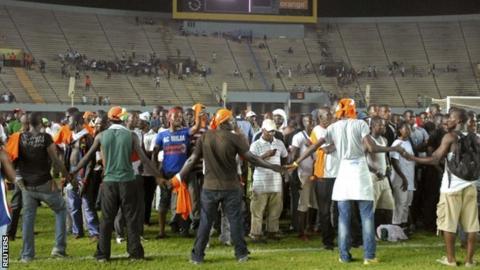 "We had to save our lives. We didn't understand what was going on - we're all African, and we're all brothers."
Ivory Coast fan Gael was trembling as he told his story on Saturday night.
He was standing on a football pitch, which just half an hour earlier had been graced by the likes of Didier Drogba, Demba Ba and Yaya Toure in an Africa Cup of Nations qualifier against Senegal.
It was now covered by hundreds of rocks after the game was abandoned in the 72nd minute with Ivory Coast leading 2-0 on the night, 6-2 on aggregate.
"We were just sitting supporting our team," he said. "It's not fair."
The flames that appeared above the players' tunnel shortly after Drogba's second goal were the first sign that things were getting out of control.
Within minutes you could smell the smoke and ash in the air as more angry Senegal supporters began lighting small fires around the ground. Soon the fires were everywhere.
Then as I looked up towards the Ivory Coast fans, I could see them running towards the exits, dodging what I assumed were bottles but soon realised were stones, broken from the brick surface of the terraces and hurled towards the away end.
But the Elephants supporters soon realised that the exits offered no refuge.
In fact the only escape was a perilous five-metre drop on to the stadium's athletics track, followed by a sprint to the edge of the penalty area.
"The police told us to jump," another fan told me. "We had to jump. It was very dangerous - I'm still shocked."
And the surge wasn't restricted to the Ivory Coast supporters.
As Senegal fans tried to get away from the fires, they headed to the VIP and press area above the halfway line. I began to fear the worst as groups of supporters began climbing over fences to squeeze into a relatively small area of the ground but fortunately, more by luck than judgement, things began to calm down and a crush was avoided.
Meanwhile the two teams were waiting patiently in the centre circle, looking stunned by the pandemonium around them. It was 25 minutes before three cars drove on to the pitch and they were ushered into the dressing rooms.
I made my way there to see how the Ivory Coast players were feeling.
They should have been celebrating qualification for next year's Africa Cup of Nations but instead it was eerily quiet as officials tried to work out what to do next. The reality of what had happened was just sinking in.
After being told by the police that I had to leave, I headed to the pitch, which is where I met the Ivory Coast fans, still coming to terms with what they had been through.
Another fan told me: "Some people back home said to me, don't go to Dakar because if you do you'll be beaten up, Senegal cannot win. But I wanted to see Drogba and all those big players."
It should have been Drogba's night. The 34 year-old former Chelsea star scored his 57th and 58th international goals as he tries again to win what would be his first Cup of Nations title.
But instead the night will be remembered for rioting, rocks and scenes damaging to the image of African football.