Belgium provide daunting test for on-the-brink Scotland
By Colin Moffat
BBC Scotland
Last updated on .From the section Football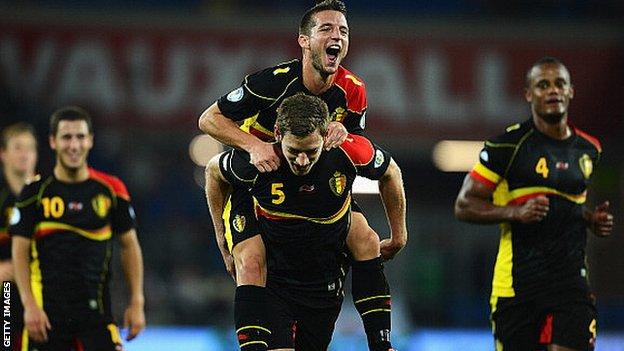 It's not healthy to hold grudges but Marc Wilmots did much to scupper Scotland's chances of reaching the 2002 World Cup - and we haven't been at football's biggest party ever since.
On Tuesday, the Belgium manager could snuff out any slim hopes the Tartan Army might have of getting to Brazil in two years' time.
But, of course, the real damage has been done in dropping seven points from nine before Scotland have even taken on the two best teams in Group A.
Wilmots is overseeing the brightest generation of Belgian players since the Red Devils finished fourth at the 1986 World Cup in Mexico.
If international squads were ranked on combined transfer fees, Belgium would be in the world's top three, along with Brazil and Portugal.
When news of injuries to Marouane Fellaini and Romelu Lukaku broke last week, Scottish fans would have been forgiven for celebrating their misfortune.
However, the sobering news is that even if both men were fit, they are not guaranteed starters, such is the abundance of talent available to Wilmots.
Both were on the bench for the 1-1 draw with Croatia last month and the team did rather well without them on Friday, picking up a 3-0 win in Belgrade which was Serbia's first competitive defeat on home soil since 2001.
For Scotland to get a result, they will need to get past a formidable defence, led by skipper Vincent Kompany, with support from fellow English Premier League stars Thomas Vermaelen and Jan Vertonghen.
And that supposes Craig Levein's beleaguered troops can get hold of the ball against a glittering array of gifted attackers.
Eden Hazard is very much the poster boy of the side but it was a less-heralded Chelsea signing Kevin De Bruyne, who caught the eye against Serbia.
The 21-year-old, who is on loan at Werder Bremen, crossed for Christian Benteke to head in the opener and raced away from near the halfway line to score his first international goal midway through the second half.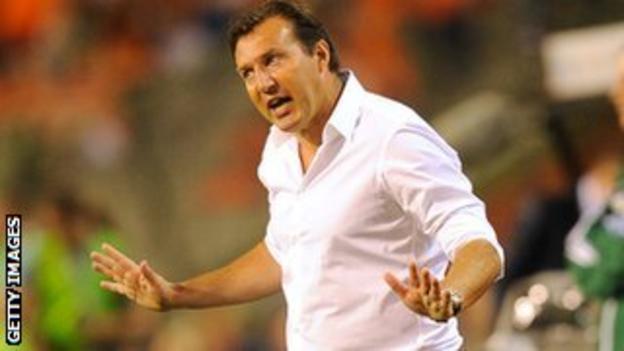 De Bruyen played in the middle of the park, along with Axel Witsl, who Zenit St Petersburg forked out £32m for, and Tottenham's Moussa Dembele, while Hazard and Nacer Chadli occupied wide roles, either side of Aston Villa's Benteke.
Kevin Mirallas replaced De Bruyne late in the game and the Everton forward rolled in the final goal.
But Hazard had been removed after just 55 minutes, with his replacement Dries Mertens "injecting fresh blood into the team", according to Wilmots.
There is much debate on how best to utilise Hazard, with the player said to be frustrated on the flank and craving a more central role.
Hazard was also subbed for Mertens in this summer's fantastic 4-2 win over neighbours Holland, with the PSV Eindhoven winger setting up two goals and scoring one himself.
At least Chelsea's £30m maestro hung around to watch the rest of the game on those occasions, having famously been captured on television eating at a hamburger stall outside the stadium when a match against Turkey was still ongoing.
The 'Burgergate' incident came during the reign of Georges Leekens, who Wilmots succeeded in May after three years in the assistant's role.
The 43-year-old had a brief and not particularly successful career in politics on retiring from football but any skills he picked up while serving as a senator may come in handy when dealing with the various egos of this youthful 'golden generation'.
"I've put my own stamp on the team," Wilmots recently told Fifa.com. "I know where I want to be and which route I should take to get there.
"My approach is based on a vision and philosophy of the game shaped by my experiences and beliefs.
"I want us to assert ourselves, to have no fear. I want good football, with lots of movement and chances. But, at the same time, I don't want us to be naive. All the work I do is about finding that balance.
"I want to give everyone confidence. It's not about pressure, but desire. And, above all, respect. It all starts with respect."
The last time Scotland visited the King Baudouin Stadium, a victory was required to maintain hopes of making it to what would have been a sixth World Cup in seven attempts.
The glaring difference is that it was the penultimate game of the qualifying campaign, while this time it is just the fourth outing.
That September night in 2001, with Scotland pushing everyone - including goalkeeper Neill Sullivan - forward in search of a late equaliser, Wilmots started the move that was clinically finished by Bart Goor to make it 2-0.
Scotland had to win that one to erase the painful memories of the last-minute goal that allowed 10-man Belgium a draw at Hampden in March of that year. But for that slip they would've started the game in Brussels top of the group.
And who was the man to drag the visitors back into that game in Glasgow? None other than Monsieur Wilmots, who powered in a header to reduce the deficit to 2-1 and breathe new life into Belgium.
"Where we lost it was the home game," recalls then Scotland boss Craig Brown.
"We were 2-0 up, Barry Ferguson was right through one-on-one and the keeper managed to save it.
"We should have gone on to win because they were down to 10 men. That was the biggest disappointment of the 70 games I had with Scotland.
"Belgium had a very good squad when we played them but in that home game we were rampant for an hour; totally in charge of the game.
"It was heartbreaking. I've never heard Hampden emptying so quietly."
Given Scotland's recent form, a win against star-studded opponents high on confidence looks highly improbable but it needs to happen to avoid a similarly hushed Hampden for the remainder of this campaign.