Belgium v Scotland: Tactics may be Craig Levein's undoing

By Liam McLeod
Football commentator, BBC Scotland
Last updated on .From the section Football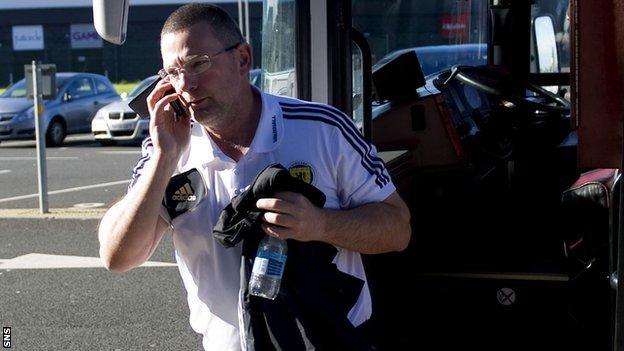 "There is a malaise round about the game just now and I think we need to be a bit more positive about what we are doing."
Those words were uttered by a fresh-faced Craig Levein at Hampden Park on 23 December 2009. It is a quote that could easily be used by any new Scotland coach being unveiled this week.
It was said the day the former international defender battled his way through snow to be presented as George Burley's replacement.
It was his dream role. "How could you turn down this job?" he asked rhetorically.
Levein's appointment was no surprise. At the time, he had impressed then Scottish Football Association president George Peat and chief executive Gordon Smith with his work at Dundee United, where he had slowly rebuilt a managerial reputation that had taken a battering during an ill-fated spell at Leicester City.
He had guided United from relegation fodder to challenging for silverware.
But it wasn't just his work in the dug-out or training pitches that had Peat and Smith purring as he also installed a youth development plan and took on a directorial role at Tannadice under the late Eddie Thompson, to whom Levein had become close.
He was seen as the ideal man to spearhead a swing in the right direction after the days of Burley and "Boozegate", when goalkeeper Allan McGregor and midfielder Barry Ferguson were banned from international duty for breaches of squad discipline.
But, as Levein's future as Scots boss hangs by the thinnest of threads here in Brussels, the fact is the national team is no further forward than that freezing festive day almost three years ago.
He was the unanimous choice. The fans seemed to want him and he welcomed the biggest of challenges.
But, not even a year into the job, and the wheels started to fly off.
Levein teams do not produce explosive, swashbuckling attacking play. His Hearts and United sides were efficient and picked up points but seldom entertained the masses.
This can be said for his Scotland sides as well, with his first competitive game in charge demonstrating the fullness of his caution.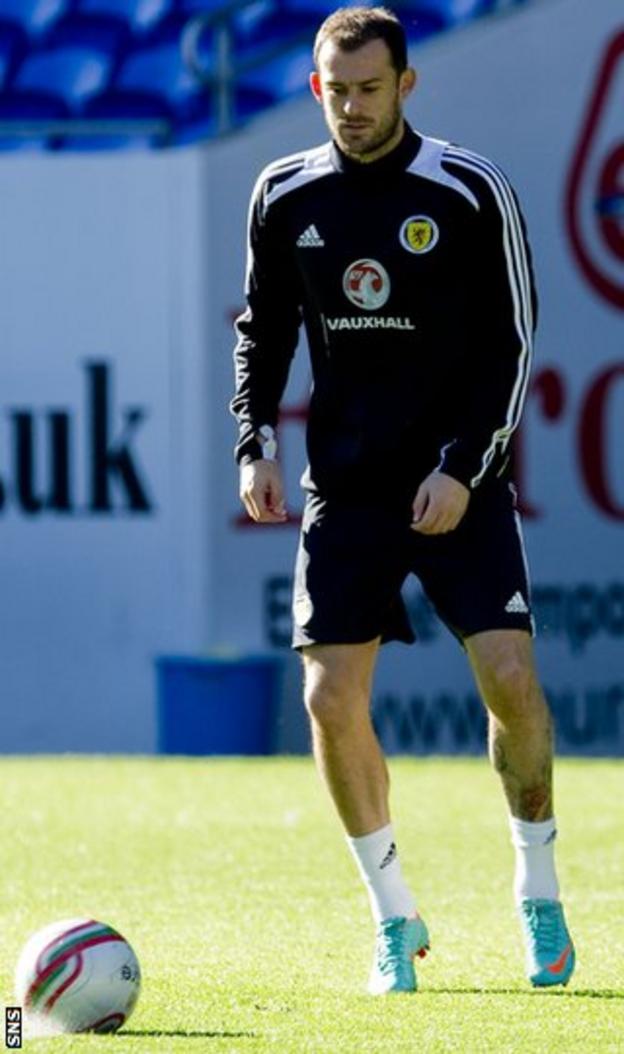 A tentative, goalless draw in Kaunas against a distinctly ordinary Lithuania was not a disaster, but it was enough to begin sowing seeds of doubt in Tartan Army minds.
A few days later came the first of only three competitive wins. Liechtenstein at home and Levein was left thanking the referee's watch, which came up with an astonishing seven minutes of stoppage time.
He somehow avoided the worst result in the national team's history against a country whose population was smaller than the Hampden crowd that night. Two of his three competitive wins have come against that lowly opposition.
Trackside in Prague a month later and a match against the team who were undoubtedly Scotland's main rivals for the play-off place, a Czech Republic team that had lost to that same Lithuania and were shadows of their former selves.
The week before, Levein watched Rubin Kazan adopt a so-called 4-6-0 formation against Barcelona in a Champions League group match. It earned them a 1-1 draw against the team who would go on to win the competition.
It was a formation Levein used for the Czech match and hoped it would also reward Scotland with a draw.
But the no-doubt flattered Czechs were not Barcelona.
Scotland lost the game, the expectant Tartan Army who had travelled to Prague felt the manager had cheated them and 4-6-0 will now be on Levein's Scotland managerial epitaph.
As will Steven Fletcher-gate. Frustrated at not being used in Prague, the striker backed out of national duty a few months later and a situation that could have been remedied then was left to fester and snowball, casting a huge shadow over the Levein tenure.
Failure to reach Euro 2012 was given a positive spin by the manager as he argued he and the team were heading in the right direction, a direction he said it needed to go in on his first day in office and still maintains.
Refereeing decisions in some of his competitive matches have been nothing short of scandalous, but that will not save him if - as expected - a star-studded Belgium run over his team on Tuesday.
It is the decisions Levein has made that will ultimately decide his fate.
The soon-to-be-scrapped group fixtures meeting ended with Levein and the SFA celebrating two home openers; a chance to get early points on the board.
Four points were dropped instead, something the Scots boss claimed he was not concerned about.
Ironically, Levein got most things right against Wales in Cardiff with Steven Fletcher back - albeit at the very least two games too late - in a more attacking formation.
Tellingly, however, when Gareth Bale's penalty equaliser found the net, Levein clearly went for the win.
An on-pitch admission that the meagre two points collected against Serbia and Macedonia were not enough, especially given that a point away from home is no nightmare in international football, provided you do the business at home.
Unless a monumental miracle happens in the Belgian capital this week, Levein's caution, perhaps even stubborness, and his record in competitive matches will cost him his dream job.