Off The Bawl - 13 October
By Tam Cowan
Off the Ball presenter
Last updated on .From the section Football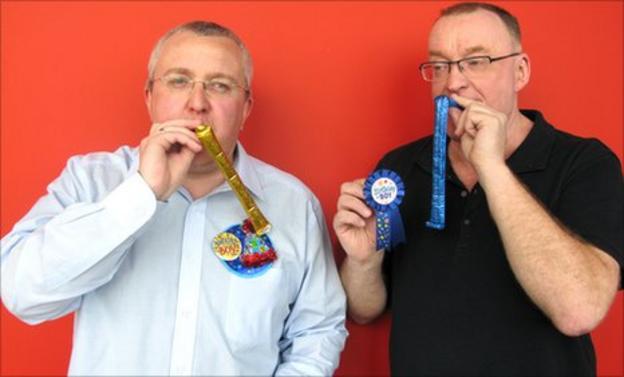 Greeeeeetings!!! To pick over the bones of Scotland's painful 2-1 defeat in Cardiff, we were joined in the studio by former international midfielder (and manager of this year's SPL champions) Stuart McCall and arguably the best uncapped player in Scottish football history - Morton legend Andy Ritchie.
So, what now for Scotland? Should we appoint Lance Armstrong as national coach and hope he can cheat us all the way to the 2014 World Cup finals?
Or should we just ask Craig Levein to get the players' confidence back by organising a couple of friendlies against Rangers?
Nobody seemed to have the answers on Saturday - so we spent most of the show talking about Stuart Cosgrove's squeaky shoes and Garth Crooks' even squeakier knowledge of international football (the BBC pundit had urged Roy Hodgson to include James Morrison in the next England squad).
Our latest Team of the Week was The Hotel XI and we'll take a look back at last week's line-up... The Crisps XI.
So, here's another selection of the most petty and ill-informed texts and emails on radio...
PUNDITRY COCK-UPS
Jimbo in Glasgow said: "My favourite mixed metaphor came from Murdo MacLeod, who once referred to a much-needed win for relegation-threatened Falkirk as a carrot at the end of the tunnel."
Kieran McKay said: "Ally McCoist was a pundit on ITV when he claimed that Craig Bellamy was 'literally on fire'. I don't recall seeing him burst into flames."
Davey in Edinburgh said: "Andy Townsend once declared he couldn't see a single German player getting into the England side - just minutes before they pumped them at the 2010 World Cup."
Sean in Fife said: "Do you remember Chick Young telling us that Scott Brown would be a Rangers player by the weekend? That was precisely two days before he signed for Celtic."
Stephen in Edinburgh said: "Do TV subtitles count as a pundit? At this summer's Olympics, the words on the screen told us that a runner in the women's marathon was on heroin. They actually meant she was on her own."
SQUEAKY SHOES
Rab in Glasgow said: "Stuart, sprinkle some baby powder or talc in the offending shoe and the squeak will disappear." (So how come that doesn't work with a baby's squeaky bottom?)
Anon said: "Put enough water in the sink to cover the heel and sole of the shoe. Leave overnight and the squeak will be gone." (Remember to take your shoes off first, Stuart.)
Billy said: "Cut a potato in two and put one half in the shoe. Tie it up in an airtight bag and leave for three days. The squeak will be gone. PS Remember to remove the potato."
Degsy T in Kelvindale even offered us a wee limerick on the subject...
"Stuart and fashion are strangers,
Designer shoes have their dangers.
If the left one squeaks,
They'll be done in weeks.
You'd be better buying shares in Rangers."
We also got a nice wee shoe joke from Chris in Stevenston...
An Aberdonian walks into a shoe shop and, after being handed a pair of shoes, he wasn't sure which one was the left and which was the right. So he said to the assistant: "Fit fit fits fit fit?"
And Big C in EK said: "Talking of shoes, I once bought a pair of football boots from Ronnie Glavin's sports shop. The next time I played, I was on fire."
TEAM OF THE WEEK...
The Hotel XI
1/ Petr Check-in
2/ Jacuzzi McNamara
3/ Tommy Ring For Service (c)
4/ Dougie Bell Boy
5/ Steven Trouser Pressley
6/ Mini-Barry Ferguson
7/ Alfie Conncierge
8/ Stuart McCall Girl
9/ Chris Night Porter
10/ Lobby Charlton
11/ Andy Ritzy
... AND LAST WEEK
The Crisps XI (aka Borussia Monster Munchengladbach)
1/ Nicky Walkers
2/ Tommy Ringos (c)
3/ Tony Dorito
4/ Owen Tudor Jones
5/ Karl Ready Salted
6/ Shunsuke Nik-Nakamura
7/ Wheat Crunchie McAllister
8/ Hans Crinkle
9/ Ally McCoys
10/ Nachos Novo
11/ Jan Salt and Vinegar of Hesselink
AND FINALLY...
The song that played us out?
Well, to gauge public opinion on Craig Levein, we challenged the listeners to dedicate a song to the Scotland boss.
So, what was the mood - "Please Stay (Don't Go)" by The Drifters or "Time To Say Goodbye" by Andrea Bocelli?
Let's start with the "Levein Must Go" brigade...
"Beat It" by Michael Jackson (Jimmy in Falkirk)
Any song by UB40 (Anon)
"I'm Levein On A Jet Plane" by Peter, Paul and Mary (Anon)
"The Muppets Theme" (Colin in Edinburgh)
But Craig still had his supporters...
"Give Me Just A Little More Time" by Chairman of the Board (Rory in London)
And, as suggested by Donna in Aberdeenshire, we finished the show on a positive note with the old Tammy Wynette classic "Stand By Your Man".
To join in the fun on this Saturday's show, call 0500 929500, text 80295 or email offtheball@bbc.co.uk
Listen to the most recent Off the Ball programmes.
Download the latest Off the Ball podcast.