Bristol Rovers: Kevin Spencer 'accepts' ban from club
Last updated on .From the section Football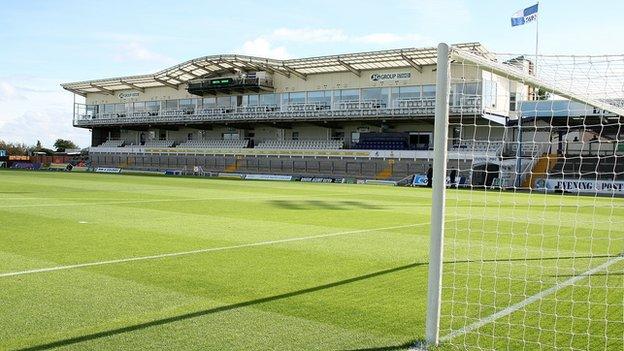 Former director Kevin Spencer has said he will not contest the ban given to him by Bristol Rovers.
The club went on to issue a statement saying he had been excluded because of "consistent criticism" of the board.
"I have given criticism so I accepted the ban," he told BBC Radio Bristol.
Chairman Nick Higgs said the incriminating remarks date back to when Spencer initially quit his role, and the ban had only recently been ratified because he had regularly started attending games again.
But Spencer argued: "Nobody had informed me of any ban.
"There was no reason given on the letter and I only heard through the AGM that it was historic."
Speaking on Saturday, Higgs said the club had offered Spencer a reprieve but he had declined clear-the-air talks.
"We have offered an olive branch for Kevin to come back," he said.
"We said there would be conditions attached but we were willing to talk to him about him returning, but he said in an email he did not wish to reconsider.
"I'm quite happy to go along with Kevin's wishes. He wants to draw a line under it and move on."
Spencer quit his post after an investment plan proposed by ex-managing director Mike Turl was vetoed in 2006.
The duo, along with fellow former directors Colin Williams and Kim Stuckey, later formed a campaign group called Rovers Agenda For Change in a bid to change the way the club was run.
"Six years ago things were nasty, and I regret that, but it should be buried," Spencer said.
"What has gone on this weekend has been a total embarrassment and it all needs to be put behind us."