Price of Football: Greenock Morton cheapest in Scottish First Division
By Karen Fazackerley
BBC Sport
Last updated on .From the section Football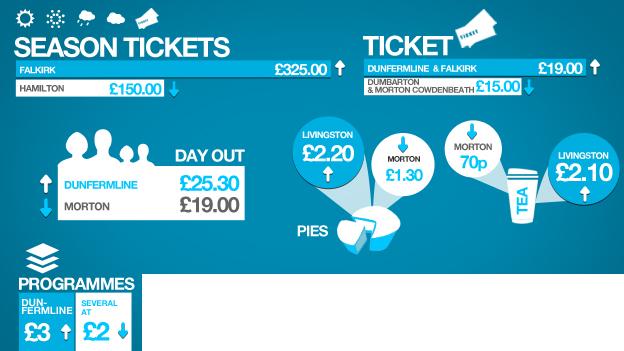 Morton's Cappielow Stadium is the cheapest place to watch Scottish First Division football, according to BBC Sport's Price of Football study.
The total price of a programme, pie, cup of tea and cheapest adult ticket costs £19.
Cowdenbeath and Dumbarton both offer good value for money at £19.50 and £19.90 respectively.
At £23.70, Falkirk is the division's most expensive in the cheapest day out category.
Following relegation from the Scottish Premier League at the end of the 2011-12 season, Dunfermline Athleticare one of the most expensive sides to watch in Scottish First Division.
Their cheapest day out costs £23.30, matching that of Livingston, but it remains 40p cheaper than Falkirk.
However, if fans want to buy the best seats at Dunfermline's East End Park, they can expect a day out to cost them £25.30, the most expensive in the division.
Tracey Martin, marketing director at Dunfermline, said: "We set ticket prices by doing a comparison with all the clubs in the Scottish First Division, especially those of a similar size to ourselves.
"We try to make the pricing as competitive and appealing as possible, with a focus on our younger fans and families."
Relegation hit the Fife club hard, with Martin revealing it cost the club "at least £1m in revenue".
"We certainly feel the product on the park is there for the supporters to be entertained and this has been reflected with a small increase in match ticket sales from last season in the SPL," she said.
"We have also increased the availability of our match-day family tickets and will be introducing kids' box meals in our catering kiosks, all to try to improve our offering to young people and kids."