Scotland: 'Fans believe Craig Levein's time is up'
Last updated on .From the section Football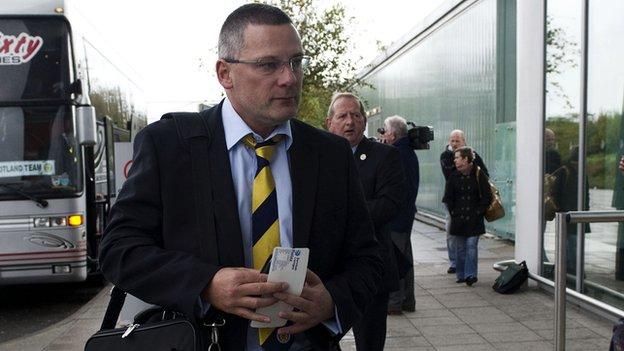 Association of Tartan Army Clubs representative Hamish Husband believes that coach Craig Levein will be fortunate to survive Tuesday night's match with Belgium.
The national side lost 2-1 in Wales on Friday, with some fans still angry at a 2010 defeat in the Czech Republic.
"Where Levein is culpable is we're mystified by his tactics, often his team selection," said Husband.
"And he will never recover from that debacle in Prague."
That was when Levein was criticised for using a 4-6-0 formation in a 1-0 defeat by the Czechs in a Euro 2012 qualifier.
Now Scotland lie second bottom of the Group A table with two points from three games, five points behind leaders Belgium and top seeds Croatia.
"I think the Scotland fans are facing desperation," Husband told BBC Scotland.
"I can't remember the last time I travelled to a game in such trepidation, absolute despair."
Husband claims that patience is wearing thin with the former Dundee United, Hearts and Leicester City manager.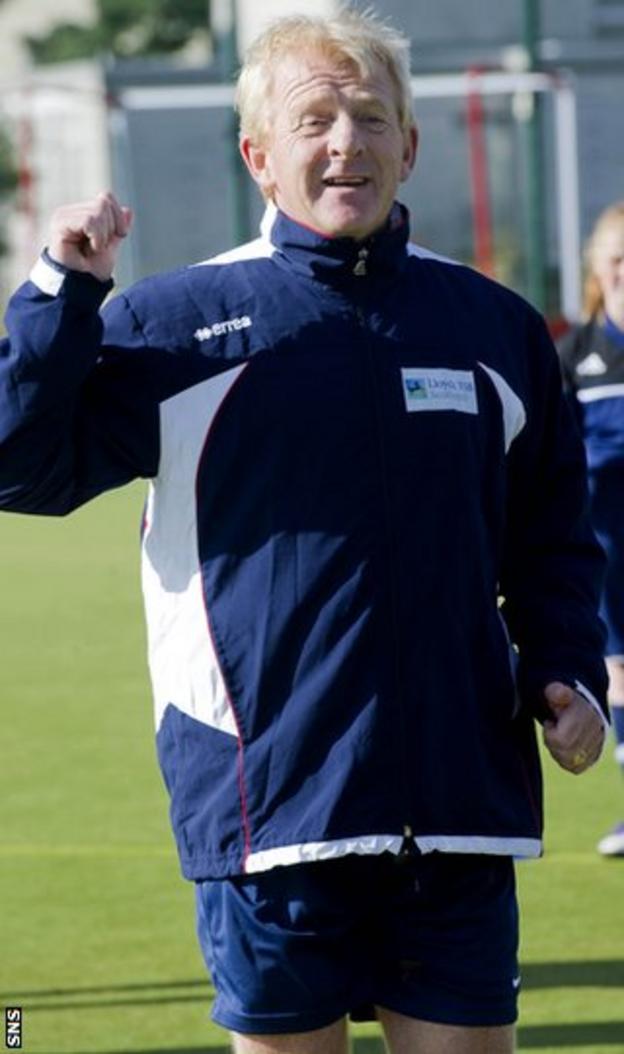 "It's always important to give a manager two campaigns," said the long-standing Scotland fan.
"We're not even half-way through the second campaign and he's claimed to see improved performance, optimism. We just don't see it.
"What we always knew is, now and again, we'd get a stunning performance, two victories against France, but these are getting further and further apart.
"I just don't see any signs of optimism. I despair of going to Brussels - I fear the worst."
However, Husband believes that thoughts about Levein's job prospects must wait until after Tuesday's game in Brussels.
"Talk of the future of Craig Levein must wait until Wednesday," he said. "We all want Scotland to win.
"But I fear for him on Wednesday and the fans feel it's time for a change."
Former Coventry City, Southampton, Celtic and Middlesbrough manager Gordon Strachan is the choice of many as successor.
"Number one on the messageboards is Gordon Strachan - he would make it interesting," suggested Husband.
"I would hope they would have a bit of money to get somebody of stature.
"What you want is someone who the players will listen to. What an international manager needs is imagination."
Former Scotland striker Billy Dodds thinks there is still a possibility that Levein can survive.
"I think, short-term, yes, certainly if we win," he said.
"I was one of those who wanted Craig in the job. I want him to stay.
"I think his team play really good football in certain games, but I think the three big games, the players have let him down.
"So, if you're asking me if we will get the results required by beating Belgium and going on, long-term, to win all the other games, I think we'll struggle and I think that will probably see Craig leave his post."