Wales boss Chris Coleman wants Gareth Bale to be protected
Last updated on .From the section Football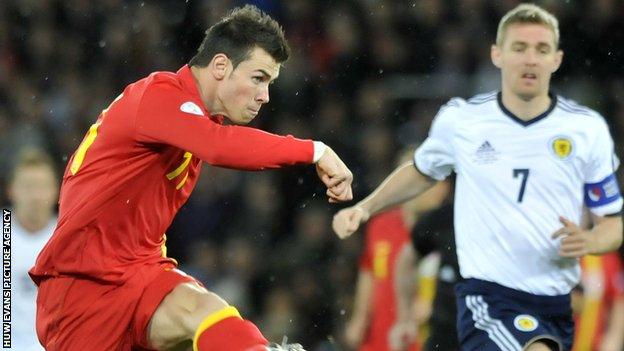 Wales boss Chris Coleman wants Romanian referee Alexandru Tudor to protect Gareth Bale in Tuesday's World Cup qualifier against Croatia in Osijek.
But Coleman believes teams unfairly target the Tottenham star.
"Belgium did it, Serbia did it. Croatia will do it. Scotland tried to. Teams double up, treble up [on him]," claimed the Wales manager.
"It's going to happen every game; every time he puts a Tottenham jersey on.
"I'm not saying he needs any extra protection from the referee, but [his] fair share [of protection]."
Coleman, who celebrated his first win in five attempts as manager, said Bale's penalty against Scotland was a fair decision.
But he claimed his side have often been on the wrong end of referees' decisions.
"A lot has been made about the penalty. Shaun [Maloney] has come out and said there was a little bit of contact because he is an honest kid.
"When you are running that fast [like Bale], the least little touch you are going to fall down.
"The amount of times he [Bale] doesn't get free kicks when he should [is significant].
"The home game against Belgium [we] never got a fair crack of the whip for sure. We were disappointed with a lot of the decisions that went against us.
"Equally, on Friday night we should have had two more penalties, [but] people are talking about the disallowed Scotland goal.
"We are looking for a bit of consistency. We are looking for a fair crack of the whip."
Asked by BBC Wales Sport whether he thought Bale's performance against Scotland was the greatest by a Welshman on a football pitch Coleman replied: "I wouldn't disagree with that. No.
"I thought he was brilliant, to show that type of energy and quick-thinking.
"It was 1-1 and we'd be forgiven for taking a point because we had lost the last four games.
"We wanted to go and win the game."
After his two-goal performance Coleman believed Bale could go down in legend alongside the likes of other Welsh greats Ryan Giggs and John Charles.
"I never saw John Charles. My dad said he was something special," added Coleman.
"Giggsy was something special - I always say he is the best player I ever played with.
"Baley is young and obviously he is getting a lot of attention and he deserves because he is a great player.
"Baley is certainly going to go down as a Welsh legend.
"He has not peaked yet. He is an amazing player."
Coleman's call comes iin the wake of Davor Suker, the president of the Croatian Football Federation, saying Bale should move to Real Madrid, if he is given the chance.