Cristiano Ronaldo set to win 100th cap for Portugal
Last updated on .From the section Football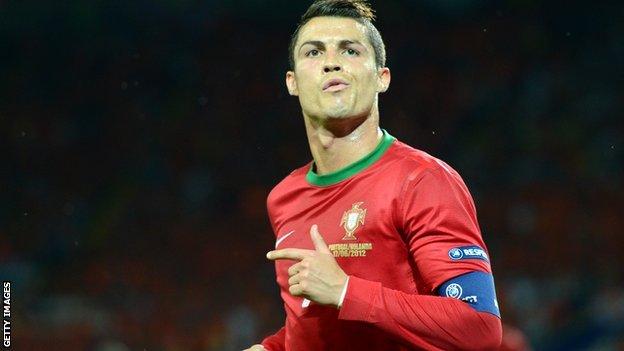 Cristiano Ronaldo is expected to win his 100th international cap in Portugal's World Cup qualifier against Northern Ireland in Porto on Tuesday.
The 27-year-old Real Madrid forward has overcome a shoulder injury in time for the Group F tie at Dragao Stadium.
Ronaldo is already highly decorated, having won the Ballon d'Or and Fifa World Player of the Year, both in 2008.
Reaching 100 caps in front of 50,000 fans will mark yet another accolade for the former Manchester United player.
Should he make an appearance on Tuesday, Ronaldo will become the second-youngest European of all time to play 100 games for his country, after Germany's Lukas Podolski.
The Madeira-born attacker is in arguably the best form of his career at present, with 14 goals in 11 Real fixtures this season.
His overall goalscoring record for his current club is even more impressive, with 160 goals in 155 appearances. In his time in Spain, Ronaldo has collected silverware including a league title and Supercopa double earlier this year and a Copa del Rey in 2011.
Ronaldo's achievements in Spain have built upon similar success enjoyed in England, where during his six seasons at Manchester United he amassed three Premier League winner's medals, a Champions League, an FA Cup and two League Cups.
It was his development while at Old Trafford that led to what remains the biggest transfer fee paid for a player, when Real spent £80m bringing the then 24-year-old to the Bernabeu.
International honours have so far eluded Ronaldo. His goalscoring record for his country is less prolific than at club level - 37 goals in 99 games at 0.37 goals per appearance - and the closest he has yet come to success was defeat in the Euro 2004 final versus Greece.
One of the most striking images from this summer's European Championships was of a frustrated and forlorn Ronaldo left, hands on hips, unable to take a penalty as Portugal exited the competition in a shoot-out against Spain.
Winning silverware with Portugal is something Ronaldo craves, but is yet to achieve. Celebrating his 100th cap with a goal and a win against Northern Ireland on Tuesday would be a start, with Rio 2014 on the horizon.