Gareth Bale in Ronaldo and Messi's class, says Redknapp
Last updated on .From the section Football799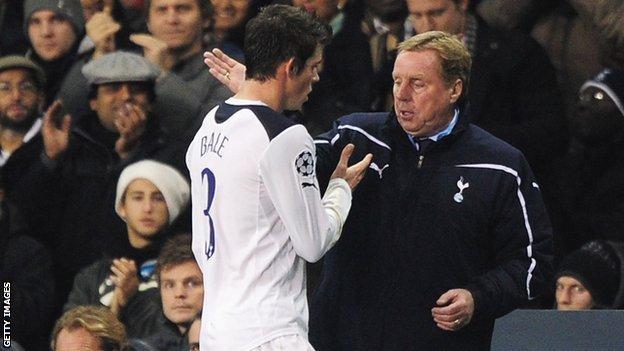 Harry Redknapp has warned Croatia that Wales' Gareth Bale is in the class of Cristiano Ronaldo and Lionel Messi.
Wales visit Croatia in Tuesday's World Cup qualifier and Bale's ex-club boss insists the Tottenham man is the "full package" and would "improve any team".
Bale inspired Wales to a first win of 2012 with two goals to
"He's an amazing talent and he's after the Ronaldos and Messis of this world and he's getting better and better," Redknapp told BBC Radio Wales Sport.
"He's almost unplayable when he's on his game. He is a genuine world-class player.
"There's nobody he couldn't play for. He'd improve any team."
Winger Bale, whose Tottenham contract runs until 2016Tottenham contract runs until 2015, has scored all of Wales' three goals in 2012 and the 23-year-old's match-winning performance against Scotland earned Chris Coleman a first win as Wales manager.
"It was amazing how he turned the game around," continued Redknapp.
"With 10 minutes to go you're looking for somebody who can do something special and Gareth can do something special.
"He can do everything and could play anywhere. He's the full package.
"He can head it, he can dribble, he can shoot, he's got a great physique, he's an amazing athlete, he can score with both feet - there are no weaknesses in his game.
"He is already at the top but any team in the world would love to have Gareth Bale playing for them.
"And he is a great lad as well with a good family behind him. It couldn't happen to a nicer lad."
Redknapp managed Bale, who was named Professional Footballers' Association Players' Player of the Year in 2010-11, during his four years at Tottenham.
And he was his boss when Bale shot to international prominence with his first hat-trick in Spurs' Champions League defeat at Inter Milan in 2010.
"It was a great performance the other night," said Redknapp.
"The one in Milan when we had 10 men, to do what he did to Maicon who, at the time, was rated as the best right-back in the world, that really destroyed his career almost. It was amazing."
Former Wales player Mickey Thomas feels Ronaldo's Real Madrid and Messi's Barcelona will soon be "fighting for Bale's signature".
"It's probably the best I've seen [from a Wales player]," said Thomas.
"I played with some great players in my career but, watching that performance, not just his goals - his ability to create opportunities for his team-mates - and when he's in that mood and when he's in that stride, he is unstoppable.
"I've seen the best. I've seen Ronaldo; I've seen them all. He's on a par with them now.
"The only difference is they play for Barcelona with players like Messi. He's at Tottenham.
"Let me tell you, he will be at one of those clubs before too long. Those top teams - Barcelona and Real Madrid - will be fighting for his signature, for sure."