Belgium expect Scots to bounce back from Wales defeat
Last updated on .From the section Football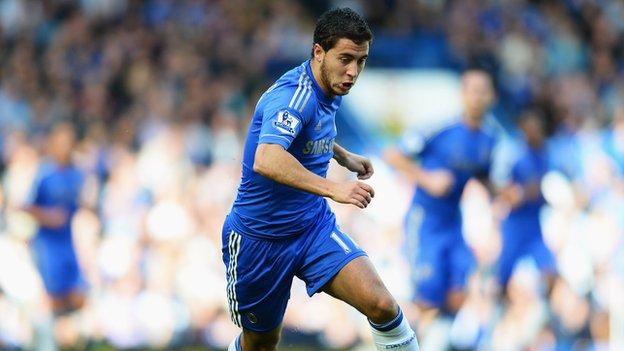 Belgian football journalist Peter Kint says the Belgian national team will be taking nothing for granted when they face Scotland on Tuesday night.
Belgium are top of Group A with seven points from three games, while Scotland are second bottom. Kint says the players don't expect an easy game.
"I think we have to make a difference between the enthusiasm of the fans, the fans are very excited, but they [the players] think the team is hurt and will fight for it's last chance to stay in the race for the World Cup."
Belgium recorded an emphatic 3-0 win over Serbia in Belgrade on Friday night. Speaking to BBC Radio Scotland's Sportsound Kint admitted the nation is brimming with confidence.
"Of course there is a lot of confidence.
"The euphoric feeling is more with the supporters than the team, the team itself seems to be very calm and quiet," Kint added.
"They believe after the victory in Serbia, they believe in their own chances to win against Scotland but there's nothing like euphoria with them."
Scotland to leave Craig Levein's team with just two points from three games. The Belgian's don't expect the Scots to be as attacking on Tuesday night as they were on Friday.
"The open system, that's not exactly what the Belgium team are expecting from the Scots, We expect a team that will be sitting back and looking for a break on the counter-attack, They don't see it as a formality."
Belgium haven't qualified for a major tournament since the World Cup in 2002, so why is the team succeeding in this campaign?
"The team is very homogenic, there is a good atmosphere between the french speaking and flemish speaking part," Kint concluded.
The Belgians' main problem is the form of Chelsea star Eden Hazard.
"The debate in our country is whether Eden Hazard can bring what he's bringing for Chelsea, whether he can bring this for the national team.
"As Lionel Messi struggled at the beginning of his career with Argentina, we have the same problem with Hazard."