Bournemouth finances secure - Eddie Mitchell
Last updated on .From the section Football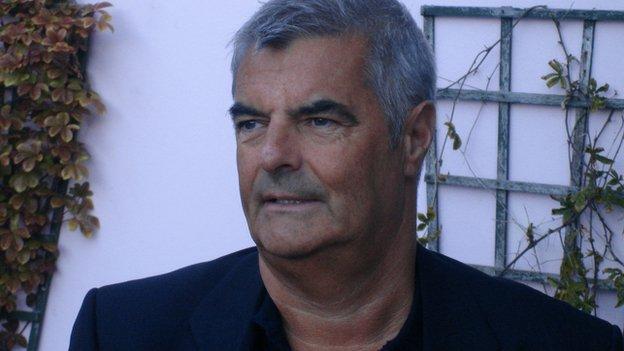 Bournemouth chairman Eddie Mitchell has insisted the club's finances have not been strained in bringing back Eddie Howe as manager from Burnley.
While refusing to confirm the figure, Mitchell told BBC Radio Solent the club finances remained secure.
He said: "I don't see how they can be insecure if we're spending money on the club, the players, the infrastructure."
Mitchell co-owns Bournemouth with secretive Russian businessman Maxim Demin.
"We're very, very fortunate to have someone who's as keen in his desire to win as my partner and we all owe him a big debt of gratitude," said Mitchell.
"I can't clear up [the issue of compensation] at all, it's not for me to say. It's confidential and that's the way it's going to stay."
He suggested Howe, who left the Cherries for Burnley in January 2011, would be backed if he felt he needed to bring in new players during the next transfer window.
"I've said from day one that we're always looking to improve, and if that means bringing in players then that's what it means. If Eddie feels he needs to strengthen, he'll come to see me and we'll try and accommodate him."
And he insisted that contrary to some reports, his relationship with Howe had always been good.
"Our relationship has never been strained - I don't want to employ 'Yes Men'. I'm sure Eddie is going to voice his opinion on the matters that concern him and I appreciate that - it's what I want from a manager.
"It's no good getting somebody who's going to let me manage the team and choose the team because it just wouldn't work. I've not got the qualifications or the desire to do it.
"I think he's coming back to a different club in that since he left we've moved the club on a bit, but I think he'll appreciate the things that have happened around the club and make the best use of them."
Mitchell said former manager Paul Groves and assistant Shaun Brooks would be able to work with Howe after stepping back into their former roles working with club's youth players.
"Shaun and Paul both want to stay with the club, they both want to go back to the roles that they had, they're very amicable people, and I'm sure Eddie will enjoy their company when he visits the youth section," he said.