England players to help reimburse fans after Poland postponement
Last updated on .From the section Football353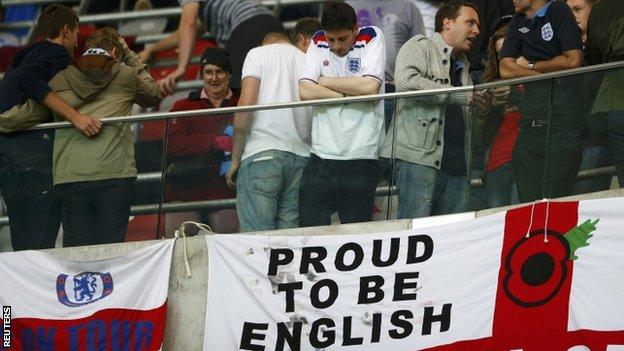 England's players are to part-fund a £50,000 money-back scheme for fans affected by Tuesday's postponed qualifier in Warsaw.
Some 2,500 England fans travelled to Warsaw for Tuesday's original game.
"The team appreciate the support we receive away from home," captain Steven Gerrard said. "We know fans have spent money and taken time off work."
Meanwhile, the Football Association said its Polish counterpart would set up a ticket refund process for those unable to attend Wednesday's rearranged fixture in Warsaw.
"To claim a refund, members will be asked to send their ticket to The FA at Wembley," said a statement on the FA website. "We will then collate all the tickets and pass them back to the Polish FA.
"The Polish FA will then confirm which tickets have not been used to access the stadium and issue refunds accordingly.
"We have a record of every ticket allocated and can assist members with damaged tickets. These will need to be returned to our offices in the same way. Full details of how the process will work will be announced later this week."
The FA's managing director of Club England, Adrian Bevington, said compensation was "something we are looking into, but I can't give any final decision on that".
It is not yet known how many England fans attended the rescheduled match on Wednesday, nearly 24 hours after the original fixture was postponed because of a sodden pitch in a stadium with a retractable roof, which was left open.
Mark Perryman, from the England Supporters' Club, was in the stadium and said: "There was one announcement. The lack of information for the fans was absolutely appalling."
Former England manager Graham Taylor, who was in charge of the national team between 1990 and 1993, agreed with Perryman's sentiments.
"I thought this was a prime example of how supporters are treated with such disrespect," said the 68-year-old.
"What I mean by that is that it was pretty obvious from the moment the ref came on the pitch for the very first time that this pitch was not playable.
"You could see that, yet it was two-and-a-quarter hours later before supporters were actually told it wasn't on."
But Bevington, speaking on Tuesday night after the postponement, said: "There's nothing but respect for those fans who travelled.
"We are extremely disappointed for them. Whether a lot of them will be able to stay over and watch the game I am not sure at this stage.
"I am sure many will be travelling back tonight [Tuesday] on the scheduled planes, so it has a massive impact on them. But we had to look at it from a safety point of view and there is no way that game could have gone ahead. We have to protect the players - that is the primary concern."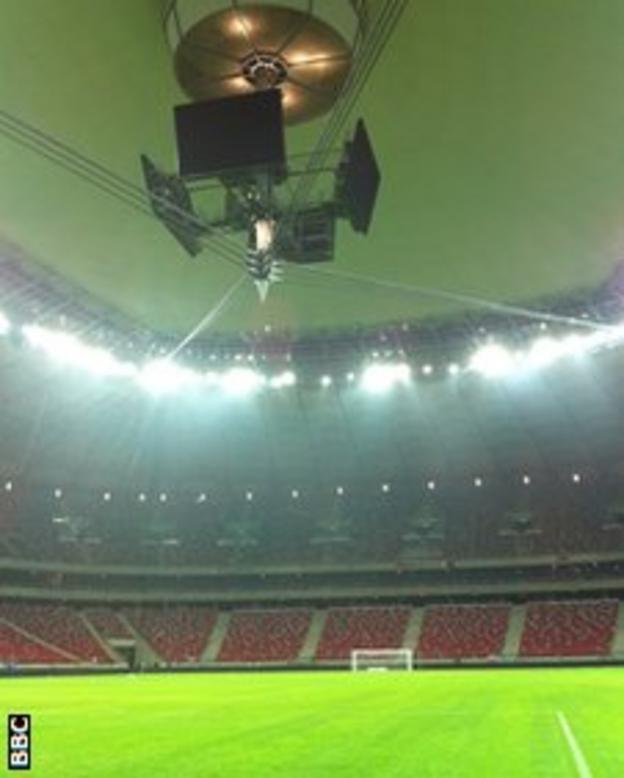 Jeers and boos rang out around the stadium as supporters were left soaking in the stands awaiting a decision.
By the time of the official announcement in the stadium the players were already on the team bus back to the hotel, while England fans were asked to remain in their seats for a further 15 minutes while their Polish counterparts left their new £400m national stadium.
Simon Gover, a 32-year-old England fan from Milton Keynes, travelled to Warsaw with two friends.
"I thought the game was under threat as soon as I got to my seat," he told BBC Sport. "It just looked atrocious. The first obvious indication of a problem was that none of the players were warming up. The pitch was flooded and looked unplayable from an hour beforehand.
"There was no indication from the stadium in terms of an announcement or something on the screen. As a seasoned fan, you knew it wasn't playable."
Despite rain being forecast, officials in Warsaw decided the stadium's retractable roof would not be deployed, much to the bafflement of the fans.
"I struggle to understand why, when you've got a roof on a stadium, you wouldn't put that across when there were clear forecasts saying it was going to rain today," Gover added.
"I looked at forecasts two days ago to see what the weather would be and it said it was going to rain today. Why wouldn't you put the roof over? That is the biggest farce of all, but they had plenty of opportunities to call the game off earlier."