Price of Football: Montrose cheapest in Scotland and England
By Karen Fazackerley
BBC Sport
Last updated on .From the section Football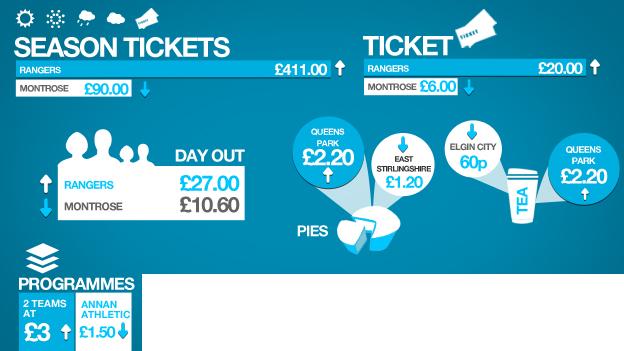 Montrose is the lowest-priced club to visit in the whole of English and Scottish football, according to BBC Sport's Price of Football.
A day out at the Scottish Third Division club - consisting of the lowest-priced adult ticket available, a programme, pie and cup of tea - costs only £10.60.
In comparison, the most expensive day out in the Scottish Premier League when purchasing the cheapest ticket available on a matchday is £30.30 at Celtic - £19.70 more than Montrose.
There is a gap of £3.40 between Montrose and the next-cheapest day out in their division, which is at Annan Athletic and Elgin City, both priced at £14.
Derek Sim, chairman of Montrose, said: "We've always looked at the size of the town in comparison to the football club and have always keenly looked at the differences at the cost of our product for spectators who choose to come here in comparison to other clubs in the area.
"It's something as a football club that you are conscious of and have to be aware of."
Following Rangers' exit from the Scottish Premier League they remain the highest-priced day out for the lowest-category adult matchday ticket available, at £23.
That price is higher than the majority of Scottish Football League Division One, Two and Three clubs.
Many Scottish Division Three clubs have yet to announce matchday ticket prices for games against Rangers, meaning the most expensive ticket price could yet rise during the season.
"The fact that Rangers are in this division this season, and we have two games against them at Montrose, has meant we've had to look at issues with regard to fans' safety," Sim continued.
"One of the important issues to recognise is that all of a sudden clubs who are hosting Rangers have to work with the police and with local councils in Scotland to ensure fans' safety and that costs money."
Rangers have also kept the price of a programme the same as it was prior to vacating the Scottish Premier League, at £3. However, Stirling Albion's programme is also set at the same price.
The Glasgow club has the fifth highest-priced season ticket available in the whole of Scottish football at £411, but it is £198 cheaper than SPL champions Celtic.