England players given matchday Twitter ban under new code
Last updated on .From the section Football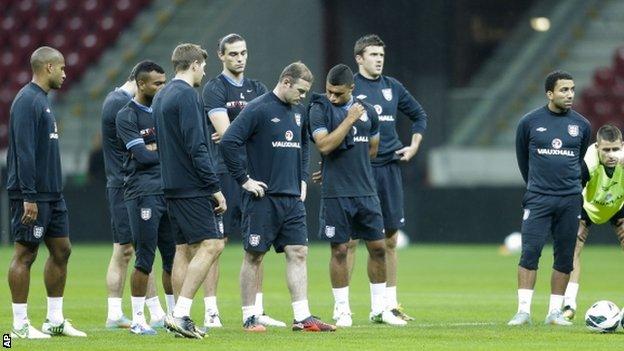 England players will be banned from making any match-related comments on Twitter for 24 hours before a game
Details are beginning to emerge of the code, which will come into effect in November following a number of recent indiscretions by players.
The code also places a greater importance on the role of captain.
And it includes rules concerning time spent playing video games.
The full details of the code of conduct are not being made public, but it says comments on Twitter about "the opposition, management or individuals could all result in disciplinary action".
Comments on match day or the day before can only be posted "with management approval", it stipulates.
The privilege of the captain's role is also emphasised. "[The captain carries] expectation and responsibility, both on and off the field," the code says.
Players have been told to "always acknowledge supporters" at the end of a game and have also been directed to walk through the post-match media mixed zone as a matter of course.
While the FA says introduction of the code is not a direct response to the actions of any specific players, Ashley Cole and Ryan Bertrand recently found themselves in trouble over comments they made on Twitter.
Cole, who insulted the FA later deleted the tweet and apologised to chairman David Bernstein.
Bertrand, who swore on Twitter after he was withdrawn from the squad, deleted his account and apologised.
The England team were presented with the code at St George's Park last Monday.
Adrian Bevington, Club England managing director, said players could be suspended from England duty if they breached the code.
Bernstein, Bevington, FA general secretary Alex Horne and the FA's director of football development Sir Trevor Brooking gave the senior England squad a 10-minute bullet-point presentation on what they expect in terms of behaviour.