Scotland: SFA to discuss Craig Levein's future within days
Last updated on .From the section Football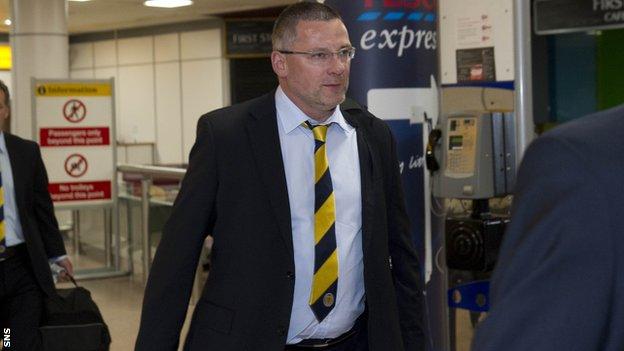 Craig Levein's future as Scotland coach will be discussed by the Scottish Football Association's board within a matter of days.
But it is believed that any meeting with Levein himself will not take place for a couple of weeks.
Chief executive Stewart Regan refused to be drawn on whether he thought Levein would remain in charge for next month's friendly against Luxembourg.
Regan admitted disappointment at Scotland being bottom of their group.
"I think that's a decision for the board," he said of Levein's future.
"Now is not the time to be making announcements and decisions. That's something that'll happen over the course of the next few days.
"It's important that we just reflect on the start to the campaign, sit down with the manager and with the board and actually look at what's happened over the last few matches and, in particular, what's happened in the last two games and then decide on our course of action.
"It's important that we actually sit down, look at the facts and then decide on the next steps."
Those facts do not read in Levein's favour following the in their World Cup Group A qualifier in Brussels.
The former Dundee United, Hearts and Leicester City manager has led Scotland to victory in only three of his 12 competitive fixtures in charge.
Scotland lie bottom of Group A with two points, eight points adrift of group favourites Belgium and top seeds Croatia, despite having played what they hoped would be a beneficial set of opening fixtures at the start of the campaign.
"We're all bitterly disappointed to find ourselves bottom of the group after four games," said Regan.
"Looking back to the dates meeting, where we set out our fixtures, we were all hoping to get off to a much better start.
"I think we expected a difficult match against Belgium, recognising the quality of their team and how many of them are playing at the very highest levels of the Premiership.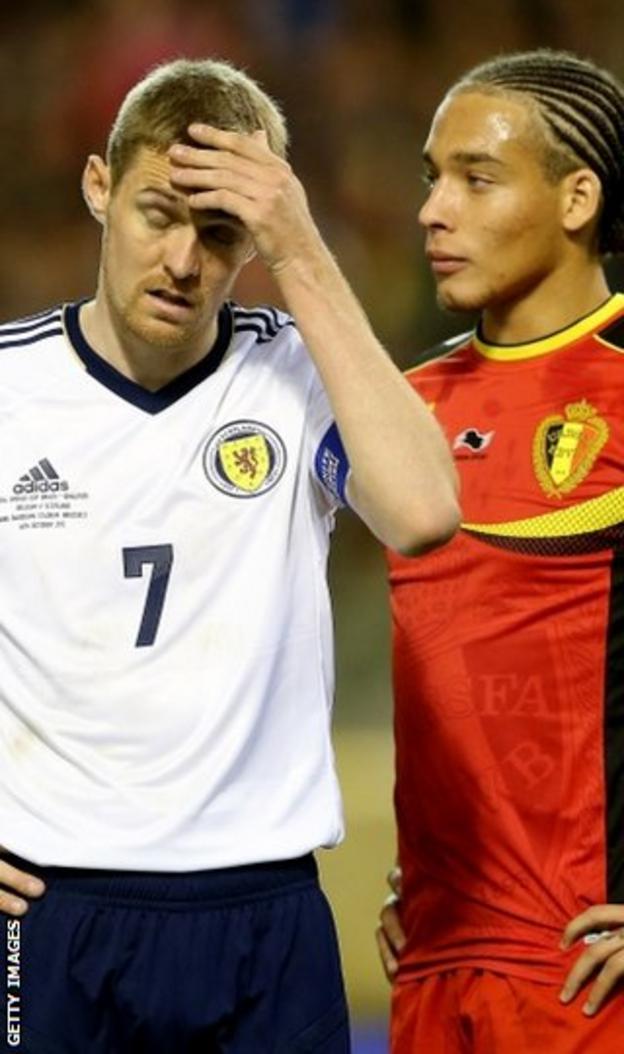 "Probably the more difficult one to swallow was the match against Wales on Friday night, where we were 1-0 up with nine minutes to go then lost the match 2-1."
Levein admitted Scotland's qualification hopes for the 2014 finals in Brazil are all but over but has
Scotland players, including captain Darren Fletcher, vice-captain Gary Caldwell and goalkeeper Allan McGregor, have all praised Levein and suggested a change in manager would not be beneficial.
However, Regan hinted that present results are likely to overshadow the long-term strategy Levein has spearheaded to improve Scotland's pool of talent.
"We appointed Mark Wotte to come in and build the foundations for a stronger Scotland going forward," said the chief executive.
"The progress we've made with the Under-17s and Under-19s recently, including qualification for the elite round of the Under-19 Championships, shows there are some green shoots, particularly for younger age groups.
"The national team is a different proposition. Craig's got a set of players he's been working with, he has those players for the European Championships and we came into the World Cup 2014 campaign with a lot of optimism and we all hoped that we would have started better than we have done.
"That hasn't proved to be the case and we now have to sit down and reflect on that and decide on the next steps."
Levein will, however, be given the opportunity to defend his record.
"I think it's important to look at the situation and allow those involved to actually put their thoughts across the table," added Regan.
"We're a board of directors. It's important that each of the directors gets a chance to have an input.
"Not all of the directors have been on this trip and we want to actually sit down as a group and have a discussion with the manager.
"When we've had a chance to do that then we'll decide what happens next."