Giovanni Trapattoni receives FAI backing to stay as Republic boss
Last updated on .From the section Football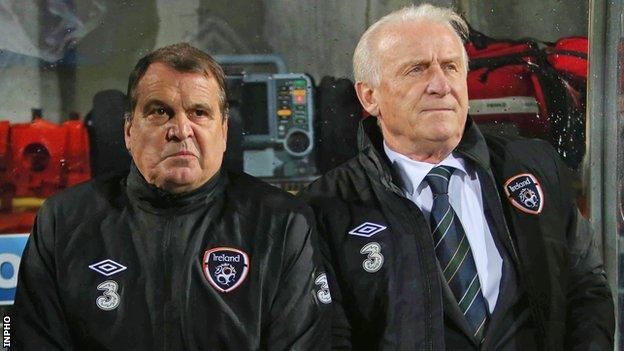 Giovanni Trapattoni is to stay on as Republic of Ireland manager after he received backing from the Football Association of Ireland on Wednesday.
FAI chiefs met on Wednesday evening to discuss the future of the Italian, who has been under pressure since the 6-1 home defeat by Germany on Friday.
An FAI statement said qualification for the 2014 World Cup was still "a realistic and achievable prospect".
The statement added Trapattoni, 73, would "remain in charge" of the team.
FAI officials made no comment on Trapattoni's future immediately after Tuesday's 4-1 World Cup qualifier victory over the Faroe Islands.
John Delaney, chief executive of the FAI, refused to discuss Trapattoni's position when approached by journalists after the game in Torshavn.
Wednesday's FAI statement claimed that it would have been "totally inappropriate to comment on the manager's position prior to last night's game".
The statement acknowledged the "frustration of some of our supporters" and admitted disappointment with "the poor result and performance" against Germany.
"The board recognises the depth of feeling surrounding the team, the performances, the results and the manager, reflecting the passion which everyone in Irish football has for the game and will continue to work closely with the manager."
The Italian's position came under severe pressure following a disappointing run of results and performances from the European Championship, where the team lost all three games, to a 6-1 hammering at the hands of Germany on Friday night.
After Tuesday's 4-1 win over the Faroe Islands, Trapattoni was adamant that he would stay on for the duration of the World Cup qualifying campaign.
Republic captain Robbie Keane insisted that the players were firmly behind the Italian with Darren O'Dea and James McCarthy also both publicly backing the Italian.