Hereford United facing administration - David Keyte
By Ged Scott
BBC Midlands Sport
Last updated on .From the section Football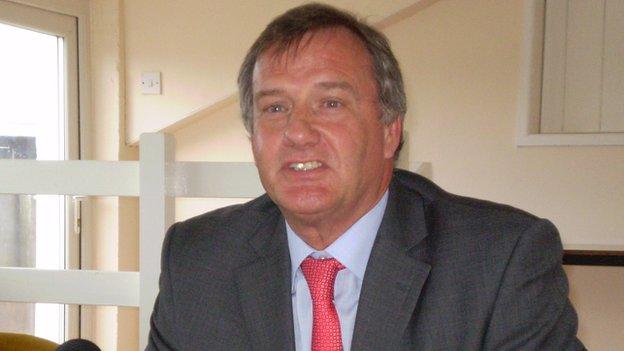 Hereford chairman David Keyte has warned that, without fresh investment, the relegated former Football League club face administration.
Keyte told shareholders at a specially convened meeting on Tuesday night that they owe £110,000 in tax payments.
"We have for the first time failed to pay our PAYE bill of some £35,000 which would give HMRC the right to start proceedings," he told BBC Sport.
The £35,000 that was due last week is part of an overall £65,000 PAYE bill.
They also owe a further £45,000 in VAT, as a result of an audit of the club going back four years, some of which fell due before Keyte took control.
"I also flagged up to the shareholders' meeting that the fall of the fixtures for November means that we have only one Tuesday night home match in the next six weeks.
"This means we would not generate enough income in the month to cover our commitments including wages and salaries for the staff."
Keyte warned earlier this month the Bulls may go part-time as they are losing money at a rate of over £8,000 a week.
The Blue Square Bet Premier side's board budgeted for home gates of around 2,400 this season, but have so far averaged just 1,793.
"At £11-12 on average per ticket, then that's the wrong end of £8,000-9,000," said Keyte, who owns only 16% of the total shares at Edgar Street.
"I'm sure part-time football would be on the agenda," he told BBC Hereford & Worcester. "We need to look at every single angle to keep moving forward."
The Blue Square Bet Premier club knew that there would have to be budget cuts at Edgar Street after being relegated from the Football League in April for the second time in 15 years.
But their eight home games so far have brought a disappointing response in the stands - and they are averaging barely half what they did six years ago.
Since starting the season with 10 points from a possible first 12, they have now won just twice in 11 games and stand 14th in the table - already eight points adrift of the play-off zone.
"It is a difficult time at the moment," Keyte added. "The huge change is the funding - everybody spends what they earn to a degree.
"League Two clubs last season earned in excess of £700,000 from the Football League and Premiership television money.
"We're having to come to terms with the fact that this has gone down to around £250,000, so we are at the wrong end of £500,000 in terms of funding.
"The message really is that many hands make light work and we can say there are 1,500-2,000 people out there who would like to help at whatever level.
"For instance, there were two donations from two lovely ladies who are pensioners, one of whom wrote out a cheque for £100 and the other a cheque for £200.
"But to rely on four or five people to continue to put fingers in holes in the dyke is not sustainable."