Celtic 'concern' after being thrown out of Scottish Cup
Last updated on .From the section Football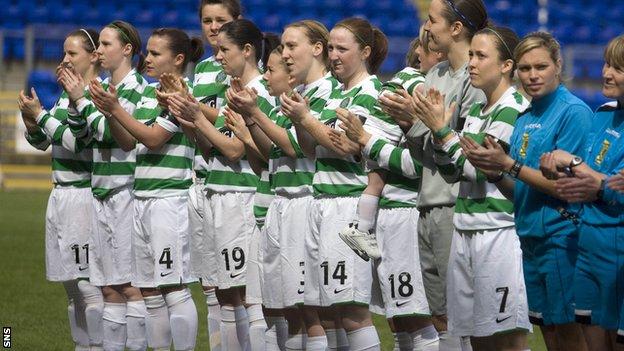 Celtic are angry at having their women's team thrown out of the Scottish Cup after being unable to field a team in the quarter-final with Glasgow City.
They claim that holders City had appealed successfully against a decision to rearrange the game.
"We were unable to field a team due to four Scottish international call-ups and significant injuries to six other players," said a Celtic statement.
"We are extremely concerned with the handling of this matter."
Celtic say they had 11 players called up for Scotland Under-17 duty for the same time as the cup tie - four of them from the club's Scottish Cup squad list.
"Clearly, given the circumstances, with only 10 players available, we asked Scottish Women's Football to re-schedule the match and awaited a response from the SWF for more than a week," said Celtic.
"They initially informed us that they were willing to re-schedule the match, but they then told the club that it was not possible following an appeal by Glasgow City.
"We are very disappointed that common sense did not prevail."
It is understood that talks between the parties failed to find a suitable date within the timescale ahead of the semi-finals.
The SWF did not wish to comment, while a City spokeswoman told BBC Scotland: "We do not wish to be drawn into any argument between the SWF and Celtic."
City, who have not lost to Celtic in eight meetings over four years, now face Hibernian in the semi-final on Wednesday at Ravenscraig Football Centre.
The Glasgow side, who have already won the League Cup, secured their sixth successive Scottish Premier League title at the weekend with an 8-1 hammering of the Edinburgh side.