Scotland: Craig Levein should resign, says former SFA chief
Last updated on .From the section Football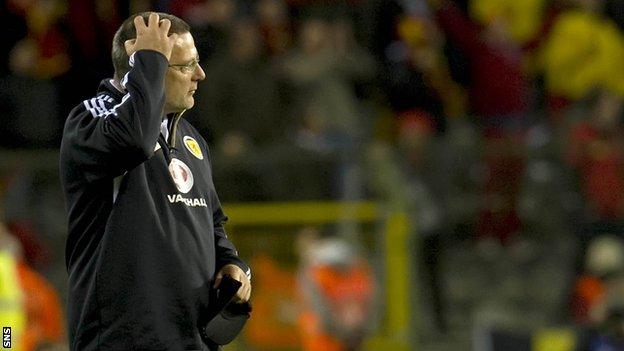 Former Scottish Football Association chief executive Gordon Smith has joined those saying Craig Levein should resign from his post as national coach.
Despite backing from several members of his squad, Levein is under pressure, with his side bottom of World Cup qualifying Group A.
Levein's future is set to be discussed by the SFA within days.
Smith said: "I think the best thing would be for him to resign and take that pressure away from the SFA."
He added: "Being sacked is probably bad for his CV."
Smith was SFA chief executive when Levein signed a four-and-a-half-year contract in December 2009 but thinks the former Dundee United, Hearts and Leicester City manager has fallen short of his targets.
Scotland drew their opening two qualifiers, at home to Serbia and Macedonia, and have now lost on their travels to Wales and Belgium.
Levein has only led his side to competitive victories in three out of 12 games, with the wins coming against Lithuania and Liechtenstein twice.
"The team hasn't really improved despite the fact he put himself under pressure by saying this is the best group of players Scotland have had for years," Smith said.
"If you say that and you don't qualify, you become the common denominator of it all."
Smith, though, thinks the SFA might stand by Levein because the 47-year-old has been closely associated with the rebuilding of Scotland's youth set-up.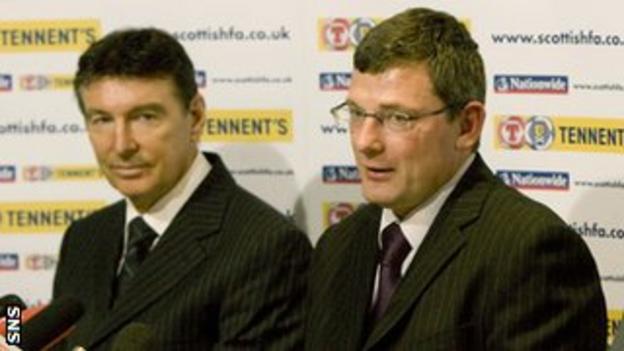 "I would personally be very surprised if they did move him on because he's been very much involved with the SFA, more so than just managing the national team," he said.
"Now, in my opinion, his remit was to manage the national team and to take the national team to a major championships - and he hasn't done it.
"Regardless of what other work he's doing, he's not the performance director, that's Mark Wotte."
Smith thought that the chances of Levein remaining in his job had receded after
"I felt that, even if we lost last night, he would keep his position, but there are a couple of factors that have come up since then," he said.
"The fact is we've now gone bottom of this group, which means it's really disappointing to be sitting bottom of not the strongest group in the world and it was a poor performance.
"Looking at it overall, we've had three out of four poor performances."
The former Rangers director of football thought that, following increasing pressure from supporters and the media, the SFA board might baulk at any criticism should they stand by the national coach.
Smith was involved in the dismissal of the previous Scotland boss, George Burley, and explained that it would now be the decision of the SFA's professional board.
It is being suggested that, although the board will meet within days, they might not talk to Levein for a couple of weeks.
Smith believes that a decision need not wait for a face-to-face meeting with the coach.
"I think, if the meeting's called and the decision's made, the decision should come out at that point," he added.
"It is a very important one to say whether Craig Levein should be the man to carry on."
Former Scotland forward John Robertson, a former international and Hearts teammate of Levein's, acknowledges that results may already have decided the manager's fate.
But, speaking on Sportsound, he posed: "Does the country genuinely believe that 12 matches is enough over three years to turn around the Scotland squad that have been failing, not over the last two tournaments, but over the last six tournaments we've gone in for?
"We are in the process of having one of our best squads for years but the results haven't shown us that.
"Do we have to keep changing the manager? Do we stick with him till the end of the campaign and see if the results improve and, if they do, we then make a decision?"