Price of Football: Celtic most expensive in the SPL
Last updated on .From the section Football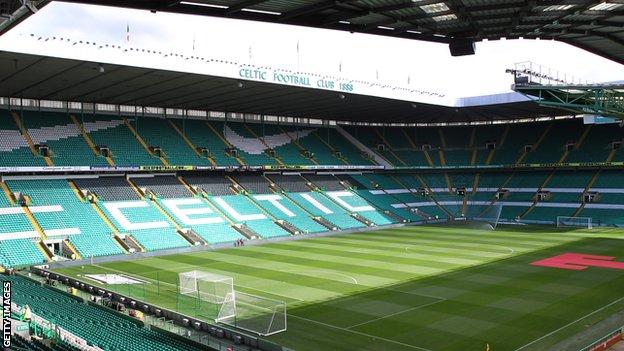 Top-of-the-table football comes at a price, with Celtic the most expensive matchday experience, according to BBC Sport's Price of Football.
The cheapest adult ticket, a programme, pie and a cup of tea costs £30.30 at Celtic Park.
That makes the defending champions £2.60 more expensive than anywhere else in the Scottish Premier League.
The cheapest day out in the top flight is with Inverness Caledonian Thistle, at £20.50.
A season ticket at Celtic Park is also the most expensive in the SPL, costing at least £77 more than any other club.
Prices for a season ticket range from £387 to £609.
Celtic's cheapest option is still £112 more expensive than the equivalent ticket at Premier League champions Manchester City.
But, while Celtic's cheapest ticket has risen £1 from last season to £23, their most expensive has dropped from £40 to £29.
Despite that, average attendances so far are lower than last season's, although SPL chief executive Neil Doncaster says he is not unduly concerned.
"There's been a societal shift with people making different decisions about what they do with their leisure time and how they spend their money, but we have to remember that we still remain the best supported league per head of the population anywhere in Europe," he said.
"That popularity and importance of coming to live games still exists in Scotland."
At Inverness, it can cost as little as £16 to buy a ticket to watch top-flight Scottish football.
However, a ticket for a game at Caledonian Stadium can also require deeper pockets than anywhere else, with their priciest option costing £30 - a pound more than Celtic's dearest and the highest in the SPL.
Dundee, who replaced Rangers in the SPL, chose to stick with the prices they would have charged had they remained in the First Division.
A season ticket at Dens Park costs £297, while a ticket to a game costs £20.