Darren O'Dea says Ireland squad want Giovanni Trapattoni to stay
Last updated on .From the section Football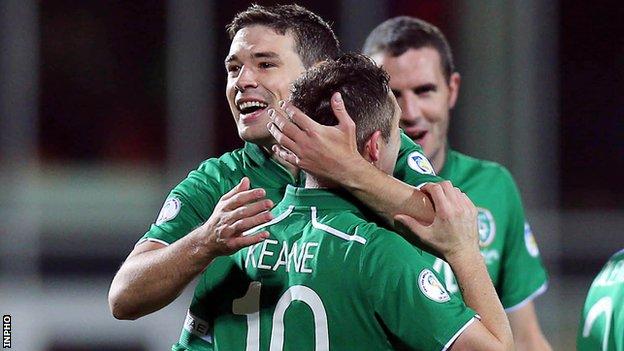 Darren O'Dea is the latest Republic of Ireland player to insist that the squad wants embattled Giovanni Trapattoni to remain as team manager.
However, O'Dea is adamant that the Italian should keep his job.
"The boss is the boss and everyone believes in him 100%. That's not a cliché to cover things up," O'Dea said.
After Tuesday's 4-1 win in Torshavn, Trapattoni said that he expected to be in charge for next month's friendly against Greece.
However, the Football Association of Ireland refused to make any comment on Trapattoni's position after the game as the aftershocks continued from last Friday's 6-1 home hammering by Germany.
But O'Dea maintained on Wednesday that the Republic players were firmly behind the current manager irrespective of speculation outside the camp.
"I don't like when people say, 'I don't read the press'," O'Dea, who scored the Republic's final goal in Tuesday's game, said. "Every footballer knows [about the speculation]. They are not stupid; they know what's going on.
"But God's honest truth, there is no uncertainty and there's no speculation within the team.
"Whatever happens outside, we know about it, but as long as the team sticks together and the staff stick together, it's not really a problem."
Trapattoni's Irish side endured a dismal Euro 2012 and a fortunate opening World Cup qualifier win in Kazakhstan was then followed by Friday's humiliation by the Germans.
The Italian, 73, insisted on Tuesday night that he was planning ahead for the Greek friendly, but acknowledged that his Republic future was "not my decision".
Republic captain Robbie Keane backed Trapattoni to stay in the job and insisted that the players were firmly behind the Italian.
"I still believe we can qualify and I am sure the manager believes that too, so I believe that the manager will be there with us," said the Irish skipper.
"It's out of my hands, but I am sure every player would probably say the same: we want him to stay and continue this campaign."
James McCarthy also said that he wanted Trapattoni to stay on.