Price of Football: Game cannot take supporters for granted
Last updated on .From the section Football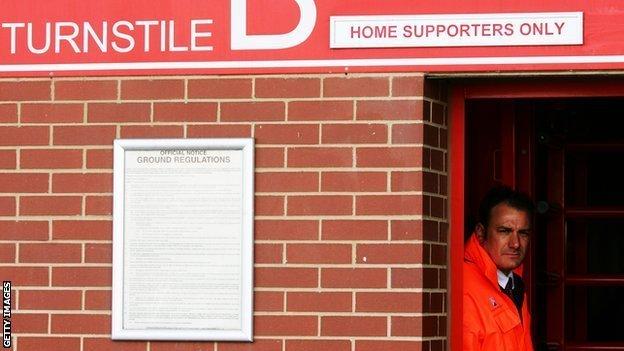 History has shown football fans stick with their teams through thick and thin, through promotion and relegation, through price hikes and even the most painful of trophy droughts.
They will never switch loyalties because the meat pies are expensive or the tea is cold any more than they would change families. The bonds are stronger, deeper and, in most cases, totally irreversible.
But in this era of austerity the price of football, the basic cost of being a football fan has become a consideration where once it was simply assumed. "What I have noticed when I go to games in the Premier League is that it is more affluent people," former FA chairman Lord Triesman told BBC Sport.
"When they aren't affluent, it's just typically the dad who goes. They don't take their kids anymore because they can't afford to. That seems to me to be very worrying for the future of the sport."
BBC Sport's wide-ranging study into the price of football lays bare the facts and charts the changing trends in every corner of the British game. The headline is inescapable: it has never been more expensive to watch the beautiful game.
The influence of rampant commercialism, soaring ticket prices and the constant pursuit of revenue as an end in itself cannot be ignored, but football knows it cannot afford to take its supporters for granted.
"I do think we and other clubs have to be conscious of the economic environment," Arsenal chief executive Ivan Gazidis told BBC Sport. "We have to think about the long-term health of the relationship with our fans because that is a very long relationship. It is 126 years old and I think it's a relationship that will still exist 126 years from now. But we have got to make sure we manage that correctly."
Arsenal are an obvious case to highlight, with their most expensive ticket priced at £126, up almost a quarter on last year's figure. The cheapest seat for big matches at the Emirates, and for the recent match against Chelsea, was £62.
There was a time that football would have bristled at the thought it would ever be in danger of pricing itself out of reach of the common man. And yet at that price, it is, especially in the year when Arsenal announced their wage bill rose from £124m to £140m.
In all four of the top divisions in England, the average price of the cheapest ticket rose on the same time last year. That fact is clear and undisputed.
And yet sometimes statistics don't tell the whole story. Matchday prices are going up, but so are attendances. The average stadium occupancy rate in the Premier League so far this season is 95.1 per cent, more than 4% up on last season. Figures have held steady and better for more than a decade in the top-flight.
In 1992-93 stadiums were, on average, at only 69.6 per cent of capacity. Season-ticket sales at the clubs reflect a similar success story, Chelsea's most expensive deal may be £1,250 but the club has reached their chosen limit of 25,000 season tickets, as last year. Tottenham have also hit their cap of 23,000. So have Norwich City, who have almost 22,000, only 5,000 short of the capacity of Carrow Road.
Queens Park Rangers used promotion in 2011-12 as an excuse for huge price hikes but brought them down again when Tony Fernandes took over as owner in August 2011, with the Malaysian businessman quickly realising the importance of ticket prices. QPR have frozen prices this season.
Wigan have cut season-ticket prices, having frozen them for five years in succession, to keep fans coming through the turnstiles. West Brom have done something similar.
The figures also show Arsenal's cheapest adult ticket has fallen by £9 to £26 over the past 12 months, while elsewhere Newcastle can still offer a day out at the match for just £23. Manchester City, the champions of England, still offer a season ticket at just £275 and a cheapest ticket of £26.
This is the other side of a story. Fans still flock to Premier League matches in their millions, still pay small fortunes to follow their teams, even as jobs are lost and the world economy stutters. No one makes them.
And yet there are those who warn of the unseen tremors of problems to come.
Tickets for Manchester United games have been going on general sale, while Arsenal fans well down the waiting list have been offered season tickets. Tickets are still in demand, but no longer like gold dust. Cost-cutting by hardcore supporters is beginning to show itself if you look closely enough and the chasm between the fans and their heroes grows by the day.
"I think there's quite a danger of an alienation growing up between fans and players at the top of the game," Malcolm Clarke, chairman of the Football Supporters' Federation, said.
"When supporters see the kind of salaries paid to the players at the top of the game at a time when the country has to tighten its belts and there are difficult economic times for everybody, it can produce significant alienation."
The disparities between the haves and have nots are also striking: the two highest-grossing clubs, Manchester United and Arsenal, each make more in revenue every two home fixtures than Wigan make in a season, despite Dave Whelan's tremendous efforts to keep the turnstiles ticking.
At its heart, football isn't about money and it is hard to envisage a time when fans will not find that extra £20 hidden down the back of the sofa. But these figures may bring a reality check that football cannot afford to take fans for granted.