Price of football: Ticket price cuts 'unrealistic' says Deloitte
Last updated on .From the section Football311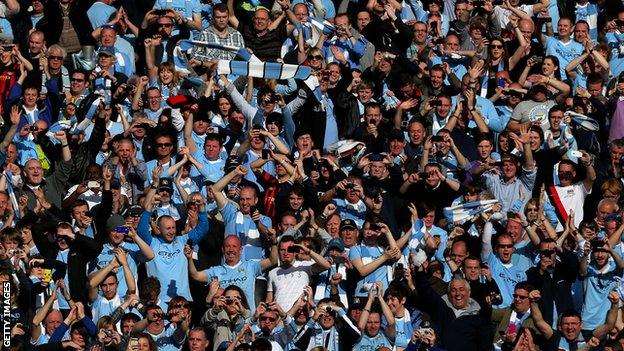 Calls for a reduction in ticket prices have been branded as unrealistic by a football finance expert.
The Football Supporters' Federation wants Premier League clubs to fund a cut with money from
But finance firm Deloitte says the income generated by the deal is likely to go on increased wages for players.
Dan Jones, partner in sports business at Deloitte, told BBC Sport: "Wages will categorically go up."
BBC Sport's showed that the average cheapest ticket price at a top-flight club has increased from £24.87 in 2011 to £28.30 this year.
The new Premier League television deal will run for three years starting from next season, with the sale of the rights raising £3.018bn - an increase of £1.25bn on the current package.
Malcolm Clarke, chairman of the FSF, wants that extra money passed on to fans.
He told BBC Sport: "Ticket prices have been a concern of ours for a long time. In the current economic situation football supporters suffer the same as everybody else and some of these prices are just unacceptable.
"The new media rights deal for the Premier League, even before the foreign rights deal is announced, means they could knock around £30 off each single ticket next season and still have as much money as they have now."
But the cash is more likely to be spent on player wages, according to football finance experts Deloitte.
"Could all the clubs choose to reduce ticket prices and not invest in the playing squad? Absolutely they could," Jones said.
"But I don't think the fans would be very happy. The reason that the TV money is so high is because the football on show is so good and the players are the best. You have to pay to get the best.
"It is a circle; you have the most money, so you can pay the biggest wages, so you can attract the best players, so you have the best league so you attract the most money."
Wigan chairman Dave Whelan believes that clubs have a duty to look after their supporters and is keen on capping the salaries of players to stop prices from increasing.
He told BBC Radio 5 live: "Clubs need to realise that we are in tough times and our supporters are very loyal people.
"We should try our best to bring the price of tickets down. I'm a firm believer in a wage limit for players. It's getting so expensive. At Arsenal it's £985 for a season ticket? That's astronomical."
But Jones insists that wages for players in the Premier League will only go one way from next summer - up.
He said: "Wages will go up. If there is more revenue in the game then more money will be spent on wages, that is absolutely categorically going to be the case.
"That is the case in every professional sport around the world and will continue to be the case."
Blackburn chose to reduce prices in 2007 after a new TV deal was struck, but Jones does not expect clubs to repeat the offer next season - though he does not see prices rising sharply either.
Despite the increase in prices, demand remains high with 92.6% of Premier League seats sold last season.
"If you're already selling your tickets your first thought isn't going to be to lower prices. That would be unusual," said Jones. "If fans were voting with their feet and staying away then clubs would listen, but all the evidence is that that is not the case.
"On the whole this new TV deal will be good news for fans as I don't see ticket prices rising highly, they will stay around the same level.
"You are not paying to watch a bunch of middling English players play on a muddy pitch from an uncovered terrace any more, you are seeing the best players in the world in high quality stadia where you are sat in safety and comfort.
"And this deal keeps the Premier League as the best league in the world."