Blackburn Rovers: No timescale on new boss - Eric Black
Last updated on .From the section Football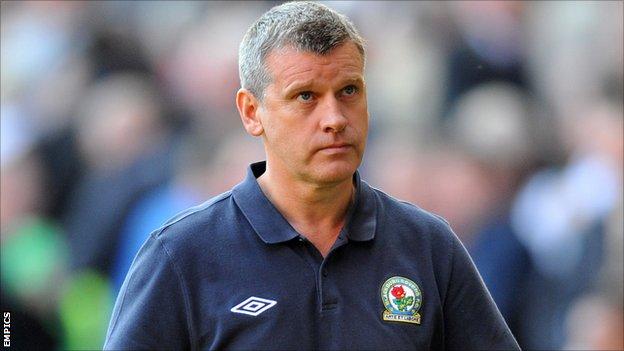 Eric Black is unsure how long he will stay as caretaker manager of Blackburn Rovers, as the Championship club search for a successor to Steve Kean.
and an was rejected by Tottenham.
But Black told BBC Radio Lancashire that he is happy to remain at the helm.
"The longer it goes on, there has to be a direction," said the Scot. "The sooner we can get that the better. But it has to be the right individual."
He continued: "I've been told to carry on and prepare the team to the best of my ability and that's exactly what I'll do.
"Timescales don't interest me. I'm only focusing on the team.
"We've had one or two away from international duty, which disrupts it, but it doesn't mean that you can't get a lot of good work in.
"The players have responded very well and I've not allowed it to be an excuse for anybody. The club will make their minds up when they're ready to."
Rovers, who are ninth in the Championship, travel to Derby on Saturday.
Meanwhile, goalkeeper Jake Kean has signed a new contract that will keep him at Ewood Park until the summer of 2016.
Kean is currently understudy to ex-England international Paul Robinson and has made two starts for the Championship club.
"It's a double-sided coin [being the number two goalkeeper]," said the 21-year-old. "It's brilliant that you're involved in the first team and you've got the likes of Robbo to work with every day.
"But it's difficult with having the first-team experience. I'm happy to be a part of this team and a part of this squad, and see where we can get this year."