Terry Pashley has not considered Burnley manager's job
Last updated on .From the section Football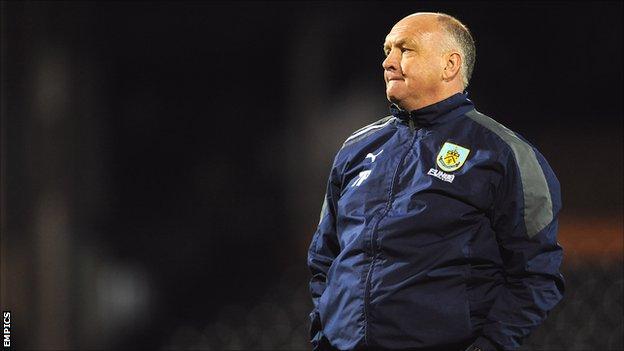 Terry Pashley insists he has never considered the possibility of becoming the permanent manager of Burnley.
Youth-team coach Pashley has of the Clarets after
He told BBC Radio Lancashire: "It's something I've never really thought about. I'm not just saying that - I've never really considered it.
"I've been asked to do this for the foreseeable future. After that, we'll have to wait and see."
And when told a good start to his temporary managerial stint could increase his chances of landing the role on a permanent basis, he added: "It may well do, but that's out of my control. What will be, will be.
"I'm sure the board of directors will do the correct thing and get the right person for Burnley Football Club. That's the most important thing."
Pashley, a former Burnley player, has no previous managerial experience and will take charge of the team for the first time against Blackpool on Saturday.
Howe's departure on 12 October came after days of reports that the 34-year-old was about to return to the south coast.
"I don't think you can say it was out of the blue because there had been so much speculation, but when it actually happens, it still is a shock," said Pashley.
"I think we have to respect the decision Eddie's made. I'm positive he's
"I really got on with him and I respect what he's done. He did a good job for us, but we now have to move forward as a football club."